MASSIVELY popular movie star Ram Charan has had some remarkable landmarks in his distinguished career.
Perhaps the biggest so far has been his recently released 1920's-set period action drama RRR becoming one of the highest grossing Indian films in history, since it released in multiple languages on March 25. The latest offering from record-breaking Baahubali director SS Rajamouli, reimagining the Indian freedom struggle against the British, has become a landmark in south Asian cinema with its success, striking visuals, and storytelling. The larger-than-life film's heartbeat is stand-out lead performances from Charan and his co-star Jr NTR. Both actors have helped propel the movie to great heights and it is something he is incredibly proud of.
The superstar was in good spirits, impeccably polite and grounded when Eastern Eye caught up with him to discuss the incredible success of RRR, creative inspirations, unstoppable drive and working with his legendary father Chiranjeevi on the hotly anticipated film Acharya.
You are very unpredictable with your choices. What connected you to RRR?
When you have a master filmmaker like Rajamouli, it makes our job easy to select the subject, so, absolutely, that was my first priority. It's a good question you asked me and such a coincidence, as I was talking to my director yesterday, and he was like, 'Ram, you're moving on to the next project, you are no longer my actor now and I wish you all the best'. He said I'm an intuitive and instinctive person, so I think that's pretty much what I do on the first phase of inviting a director and script. Of course, once we like the whole vibe and everything, we get under the carpet of the whole movie, story, and everything else. I like having a good relationship because that's what drives me, besides also having a good script.
I've met SS Rajamouli and he's a really lovely man, but is it fair to say that when he's on set he's a tough taskmaster?
(Laughs) He's not lovely on sets for sure. He is like a dean or headmaster on set and really pushes you. I can never see him as a lovely person on sets. He is a taskmaster and that's what actors like us love about him.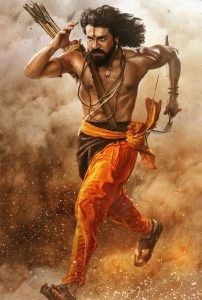 Is it fair to say that this is probably the most challenging role you've done because, it is so physically and emotionally intense?
Frankly, I think in terms of the emotional side of the character it was close to something I really enjoy doing, so it was not challenging, but he's given me three variations and there are three phases my character goes through in the whole story. That transformation and physical part of it was tiring and challenging for me.
There are sky-high expectations around you. Does that ever scare you?
Absolutely, with every film and each character, the expectations always scare you, but I think this time Covid scared us most. The market scared us and whether people are going to come into the theatre scared us. All those points were scaring us even more. Even a day before the release, we were really worried. But touch wood, the cinema spoke and broke all the fear we had in us.
The movie RRR has been a resounding success at the box office, but did it even exceed your expectations?
I think it exceeded way beyond my expectations, touch wood. I am very thankful for that.
What would you say was your favourite part of this whole RRR journey?
Apart from working with Mr Rajamouli, the fabulous story and a character like this, I think working with my very good friend and buddy in the industry Jr NTR was like a bonus and a feather on the hat. I thoroughly enjoyed working with him, it strengthened us and bonded us much better. I have a friend for life.
The chemistry between you and Jr NTR in this movie is a major highlight. Is there any one scene that really stands out for you?
The most powerful moment I liked best was the scene where I flog him. That was very emotional and very difficult to portray because I couldn't show emotions I have for my friend at that point of the movie, and yet, I have to do my duty. Fighting for the land and my father's promise! I think that was one of the most difficult scenes I have ever done. I remember having the most back and forth discussions with my director of how much of pain I can show because he always wanted me to have a deadpan, emotionless expression. He didn't want me to emote empathy I had towards (his character) Bheem at that point. But I really felt the empathy and wanted to show it, but it was so difficult when the governor is sitting right there and it's a public platform. Everybody is watching me flog him. It was the most challenging scene and my favourite as well.
Do you have a dream role that you'd love to play?
I don't know, I think I just played my dream role. I have to chase a new dream role again. In fact, a director said I want to work with you, what do you have in mind, do you have a particular genre or something? I am not someone who chooses a genre. I feel directors are far superior and should come up with something which is interesting because they need to travel in that movie, on that subject and script more than us (actors). If they are convinced I would fit into this, I'm ready to play anything. So, I really don't have a dream role.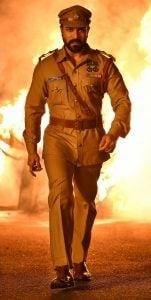 For me, more than being a big movie star, you're really a great actor. What's the secret of a good performance according to you?
I swear to God, I don't know, but again in all the promotions and interviews Rajamouli said I think I cracked Charan's approach towards a scene or movie. He said, I come in like a blank page and asked my director to paint whatever he wants. I come with an open mind and don't have any preconceived notions when I walk into the sets. I feel I'm an explorer on set, as an actor. I'm really exploring every day because I feel that's the best way I can approach myself as an actor and be excited.
Everyone is looking forward to your next film Acharya, in which you star alongside your legendary father Chiranjeevi. What was the experience of working with him like?
I think it was scary before I said yes! In fact, I'm the producer of the movie as well and wanted to stick to my job as a producer, but they dragged me into this. It was really scary! Doing a cameo is different, but it's almost like a full-length role along with him. On sets, I thought am I going to see the father side of him or the co-star of him, but he was so gracious. He's so mature as an actor and has done over 150 films across 42-43 years. He really was a co-star to me on sets and allowed me to make mistakes. He allowed me to go through my own journey, while I was working with him, so it was a cakewalk for him. He knew what mistake I was doing and could correct me. He let me make my mistakes. I'm really grateful for the actor my dad is.
Whether it is challenging acting roles, producing, business or philanthropy, you are one of the hardest working stars around. What drives you and brings out so much energy to do all these things?
I guess I'm not too good if I have no work. I get really lazy. I think it's what keeps me going and what keeps me healthy. If I don't have work, I would never hit the gym. One thing I hate is going to the gym. Thank God, I keep myself busy with back-to-back films, so I can hit the gym and stay healthy.
You are one of the biggest movie stars, but remain like an everyday person. What is it that keeps you so grounded and humble?
I think it's when you have a father like Chiranjeevi and a family with about eight actors. They are my biggest critics and have achieved so much in life that it always puts us in a correction mode and keeps us grounded. That was the whole essence of our family when we got into films and I just follow it, so doesn't excite me too much.
I believe you are a world-class talent and someone who could do huge projects in the West. Does Hollywood interest you?
Of course, it does. Absolutely, it is something I would look forward to doing. I have so many favourite directors and would really like to explore it. I would love for them to explore us as well.
What inspires you creatively?
I think a good story, a good subject and when somebody says how hard it is to do the character. It's not hard when you do something you love and when they do something you like. So, a good subject really inspires me, and I will never get tired of doing that character. I can do that character another zillion times. I think a good story and character keep me going.
Your fan base is incredible. How much do they mean to you, and can you give them a message?
They keep me on my toes. It's a huge responsibility and just to live up to that every single day is tiring, but very rewarding. I'm really grateful to each and every fan. I really mean it. Today if I'm healthy, if I'm successful, and if I'm doing whatever I'm doing it is because of them and thank God. More than my parents or anybody in my family, it's my fans who keep me going and make sure I'm doing the right thing every day, when I wake up.
Instagram: @AlwaysRamCharan