THE DEBUT novel of Asian author Aamina Ahmad combines crime fiction and 1960s Pakistan to tell a story of murder, corruption and finding long-lost family.
The Return of Faraz Ali is available on Amazon from Tuesday (5). Set in Lahore, Pakistan, in 1968, it tells the story of inspector Faraz Ali, who is sent to the red-light district in Lahore's old city to cover up the murder of a young sex worker. Sent by his powerful bureaucrat father, he winds up in a much knottier investigation into not just the murder, but his own family who live there. Having been taken from his family as a young boy, he becomes determined to track them down again.
In an interview with Eastern Eye, Ahmad explained, "It's a story very much partly about this investigation, but very much about family and about home.
"What family ties mean to us what it means to grow up without those family ties. And what it means to find those family ties."
Ahmad, 46, was born in London and lives in Los Angeles; she's of Pakistani descent and her family home is in Lahore, not far from the old city where the book is set, which is why she wanted to explore the area in her novel.
"I had heard of the Old City; our family home was quite near there. It is very ancient,
when you go visit it, it really feels like you're stepping into another world – the streets are like a maze, a labyrinth," she explained, adding, "And I thought, 'this feels like a really interesting kind of mysterious place full of secrets'. I wanted to explore that setting.
"That was really the initial idea for writing the story."
Pakistan in the late 1960s was a place of much turbulence, with then president Ayub
Khan's food price hikes in 1967 prompting nation-wide demonstrations led by Zulfikar Ali Bhutto. This disturbance continued into 1968, when the novel is set. Just a year later, an uprising in East Pakistan (now Bangladesh) would see the president ousted from power.
"I thought this is a really interesting period and I haven't read anything about it. I haven't seen it in fiction before. And for me, it was a way to explore how this country which is still a very new country at that point, is trying to figure out what it means to be Pakistan and what it means to be a country and what its identity is," Ahmad said.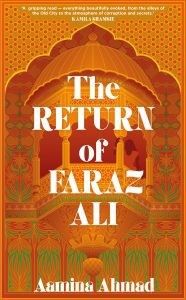 Novels set in Pakistan with Pakistani lead characters are rare in the English language, more so when it comes to crime fiction. Ahmad said this is partly down to how differently the Pakistani police operate.
"We tend to tell stories about the police and about police procedurals. And one thing happened when I was writing this book was that I didn't have a sense there was this kind of big procedural storyline you could cover with the police.
"In fact, it felt kind of anti-procedural," she explained, "they didn't really follow the rules.
"Instead, they document everything at a crime scene, then they cleaned up the crime scene. So, they operate in a very different way to the kind of police stories we were used to seeing here."
The impact of police corruption on the neighbourhood where the police station in the story is set was another theme she wanted to explore in the novel. The Tibbi police station is notorious for "being quite corrupt", she said.
"That was another aspect of policing I wanted to explore; why that happened and what it looks like when a police station in your community has a bad reputation for corruption."
As well as helping the protagonist Faraz Ali find his own identity, the novel helped Ahmad to further understand her own as a member of the Pakistani diaspora.
"One of the sort of obsessions is trying to understand Pakistan as a place and your place in it, as a diaspora Pakistani. And in a way writing a story about Pakistan at a particular moment in history felt like a way to try and understand Pakistan a little better, and also figure out my own relationship to Pakistan," she explained.