WHEN lists of the greatest Bollywood films of all time are compiled, Deewaar consistently makes the top 10.
The drama about brothers on opposite sides of the law became a sensation when it was released on January 24, 1975, and remains iconic. Amitabh Bachchan and Shashi Kapoor as the siblings headlined the movie masterpiece which had many memorable moments, including an unforgettable finale. The film consolidated Bachchan's angry young man image and he would later say it was one of the finest screenplays of his illustrious career.
Eastern Eye decided to mark 48 years of the multiaward-winning classic with an all-you-need-to know alphabetical guide to the film.
A is for Awards: Deewaar won all the major Filmfare awards for 1975, except for Best Actor, despite that performance being the focal point of the film. Bachchan had clashed with the media, and it was said that his being denied a deserved award was in retaliation to that conflict. But the superstar nevertheless graciously presented the Best Actor award at the ceremony to Sanjeev Kumar for Aandhi.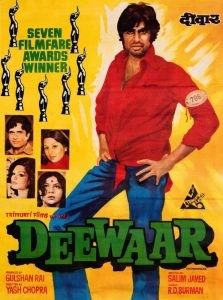 B is for Blockbuster: The film ran for more than 100 weeks in cinemas when it was released. If inflation and audience figures are taken into account, Deewaar remains one of the most successful films in Hindi cinema history.
C is for Casting: Director Yash Chopra had initially wanted to cast Rajesh Khanna as Vijay and Navin Nischol as Ravi. But Khanna had fallen out with writers Salim-Javed and rejected the offer. Shatrughan Sinha and Dev Anand were considered for the lead roles, but finally Bachchan was picked as Vijay and Kapoor was roped in to play Ravi.
D is Dialogues: The film is known for its great dialogues, including the iconic 'Mere paas maa hain'. Considered one of the finest lines in Bollywood history, it was delivered powerfully as a comeback by the legendary Kapoor. The same dialogue plays on television in TVF's Yeh Meri Family.
E is for English: There was a dubbed English version of Deewaar titled I'll Die For Mama.
F is for First: Deewaar was the first official release where Bachchan worked with Kapoor, Nirupa Roy and Chopra. They would all begin dream partnerships with him in classics that followed. Kapoor became known for playing Bachchan's brother or friend, and Roy was tagged as his onscreen mother.
G is for Ganga Jumna: Although there are elements of Oscar-nominated classic Mother India (1957) in Deewaar, the main story inspiration came from classic drama Ganga Jumna (1961). It also revolved around brothers on opposite sides of the law on a collision course, and starred Bachchan's idol Dilip Kumar. Once writing duo Salim-Javed had the story, they wrote the entire screenplay in 45 days and charged a record fee for it.
H is for Haji Mastan: There have been several Bollywood films across the decades inspired by the life of criminal Haji Mastan, but Deewaar was the first, with Bachchan's character being loosely based on the infamous Bombay [now Mumbai] smuggler.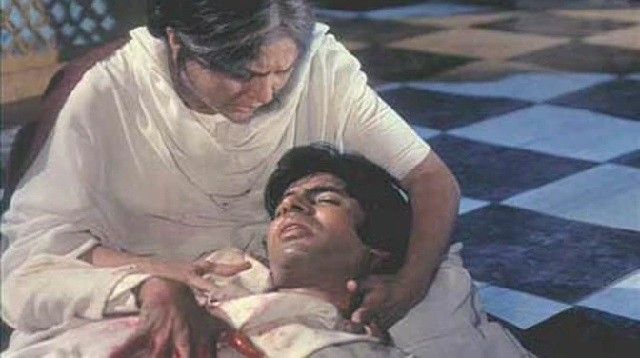 I is for Improvised: No dialogue was written for Bachchan's unforgettable death scene in the finale. The director allowed him to improvise the whole scene, which he did brilliantly.
J is for Jr NTR: The Telugu superstar, who was jointly named (with Ram Charan) as Eastern Eye's number one Asian celebrity for 2022, has said one of his as-yet unfulfilled dreams is to remake Deewaar.
K is for Knotted shirt: Bachchan's famous knotted shirt in Deewaar was the result of a tailor's error. Rather than cut the over-sized garment, the actor tied the ends around his waist. That look became a style statement, with it being copied by fans, and repeated by him several times in later movies.
L is for Launch: The film was officially launched on March 21, 1974, and remarkably was shot, edited and released within a year, on January 24, 1975.
M is for Mother: Legendary actress Vyjayanthimala was offered the important mother's role but rejected it. Waheeda Rehman was considered for the same character, but Chopra decided against it as she was playing Bachchan's wife in Kabhi Kabhie. Roy was finally cast and it started a long list of smash-hit movies where she played Bachchan's mother. The role was so significant that she got prominence over the two heroines in the film's poster, and also won a Best Supporting Actress Filmfare award for her performance.
N is for Number: Bachchan's iconic arm badge, number 786, will forever be associated with Deewaar. The badge, with the same number, was also worn by him in Coolie (1983). Incidentally, he plays an unskilled worker (coolie) in both films.
O is for Oscar winner: There are multiple influences of Deewaar in Oscar-winning film Slumdog Millionaire (2008), including brothers on opposite sides of the law. Director Danny Boyle described Deewaar as key to Indian cinema, and even paid homage to Bachchan in the movie.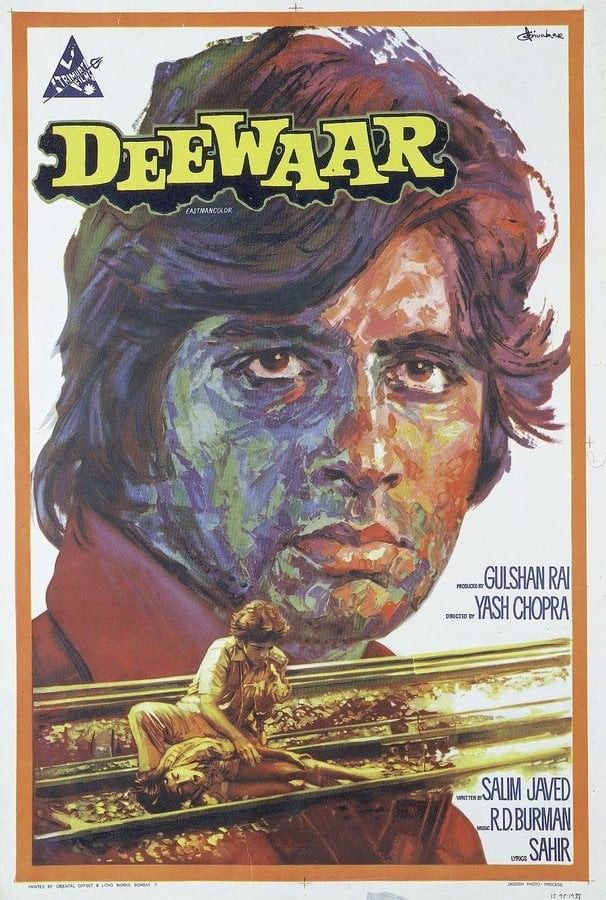 P is for Producer: The film's producer Gulshan Rai is said to have cried twice when reading the script.
Q is for Quality: Deewaar is regularly ranked high on lists of the greatest Bollywood films ever made. It was one of the three Hindi-language entries in the famous international book 1001 Movies You Must See Before You Die.
R is for Remake: Deewaar was remade in Telugu as Magaadu (1976), in Tamil as Thee (1981), in Malayalam as Nathi Muthal Nathi Vare (1983), in Persian as Koose-ye Jonoob (1978), and in Turkish as Acıların Çocugu (1985). The 1979 Hong Kong film The Brothers was based on the film, and there have been multiple other movies inspired by the classic, including Ram Lakhan (1989).
S is for Soundtrack: The original screenplay didn't feature any songs, but six were eventually recorded by music director RD Burman at the insistence of Rai to help make his movie more saleable. Two of the songs, which didn't make it into the movie, were included on the soundtrack.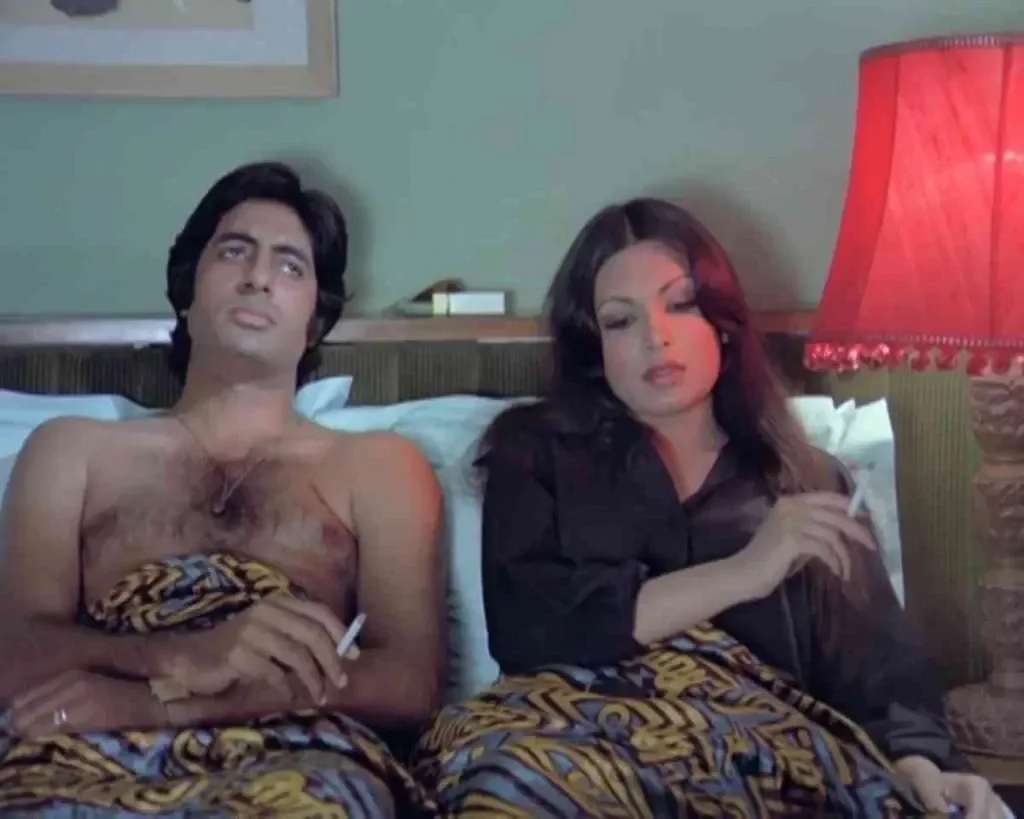 T is for Taboo busting: The film was hailed for its portrayal of strong female characters and breaking societal norms, including the mother rejecting her criminal son. In addition, the gangster's girlfriend drinks, smokes, and gets pregnant outside marriage. There was also a scene with the lead protagonist bare-chested in bed with his girlfriend, which was unheard of in Hindi cinema at the time.
T is also for Tattoo: For the first time, a tattoo featured prominently in the plotline, with a youngster forcibly having the words mera baap chor hain (my father is a thief ) inked onto his arm, and how it shapes him as an angry young man.
U is for Unforgettable: One of the film's most poignant and emotional scene sees Vijay enter a temple for the first time towards the end and beg for his mother's life. It took Bachchan 15 takes to get the shot right, as the thought of challenging God intimidated him. Furthermore, he insisted that only the director be present for the shooting of this scene. Years later, Bachchan spoke that same dialogue in his 2008 Unforgettable world tour, after losing his mother the year before. He tearfully told the audience how in the film his mother survived, but in real life, he could pray a million times and it wouldn't bring his real-life mother back.
V is Violence: The action drama had plenty of violent moments, but only the most eagle-eyed in the audience noticed one very clever touch. A photograph of Mahatma Gandhi is featured in the dockyard canteen, and Bachchan's character clearly defies Gandhi's non-violence stance in that scene, as he sets out to deal with the thugs.
W is for Working hard: Bachchan shot for Sholay (1975) and Deewaar simultaneously, despite playing demanding roles in both films. Chopra and Sholay director Ramesh Sippy both have credited him for never being late for either shoot. Both movies became blockbusters and all-time classics.
X is for X-large: A 230-ft mural depicting Bachchan's iconic pose from Deewaar has been created on the wall of a building in Bandra, a suburb in Mumbai, which is the tallest in the country. It was painted by Abhishek Kumar Singh and Ranjit Dahiwal to commemorate the superstar's 75th birthday, and they chose the most defining pose from his angry young man image. Bachchan's height also played a big part in giving the mural its record-breaking status.
Y is for Yash Chopra: Deewaar started a dream run for Chopra, after which the director teamed up with Bachchan and Kapoor for subsequent classic releases Kabhi Kabhie (1976), Trishul (1978), Kaala Patthar (1979) and Silsila (1981).
Z is for Zanjeer: This 1973 action drama played a huge part in Deewaar becoming a success. It had turned Bachchan into a superstar and led to huge crowds flooding into cinemas in subsequent years to watch his films. Zanjeer also laid a foundation for the actor's angry young man image, which exploded to life brilliantly in Deewaar, a film that is still loved 48 years after it was first screened.