By:Pooja Shrivastava
Pooja Shrivastava
A play – set in 1887 and exploring the lives of Indian ayahs, sailors and servants in the heart of the British Raj – still has a lot to say about modern society, playwright Tanika Gupta MBE has said, as her work is set to return this July.
After a successful run in 2013, Gupta's The Empress is back on stage this year
under a new production. It is directed by Pooja Ghai and is set to open in Swan Theatre in Stratford-upon-Avon.
This time, The Empress follows the journeys of five characters during the final 14 years of Queen Victoria's reign – Rani, a 16-year-old ayah (nanny), Hari an impoverished lascar (sailor), Abdul Karim, the Queen's servant who rose through the ranks to be her munshi (teacher) and Dadabhai Naoroji – the first Indian (Liberal) MP elected in 1892 to represent the constituency of Finsbury in north London.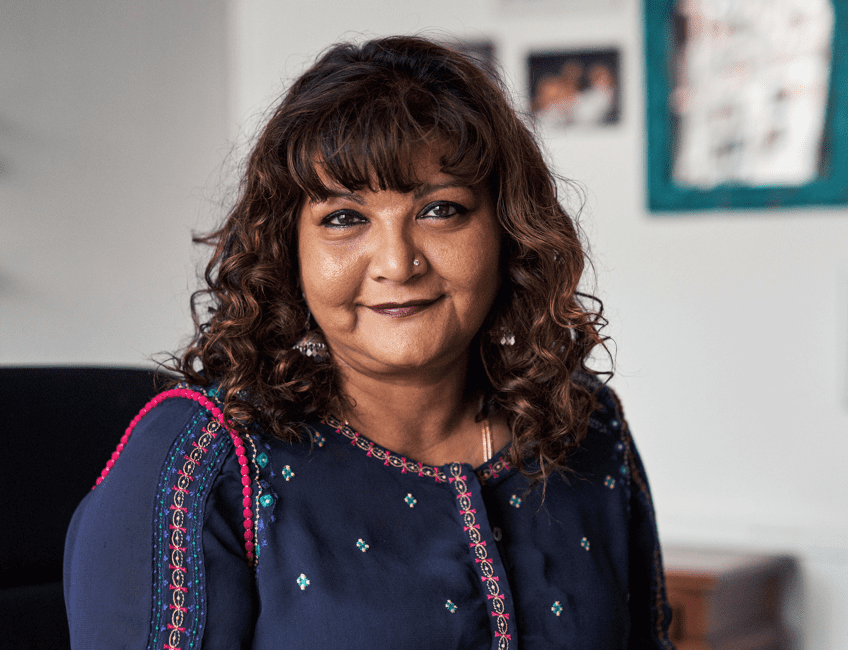 In an interview with Eastern Eye, Gupta said while it was still the same play, she
had updated the script.
"We have a different director, a different production. It feels more political this time. Since the play is about colonialism and about British Asians in the 19th century, it makes a statement about how the British empire affected Indians in this country," she said.
"Since I first wrote it, quite a lot of things have happened in the world. But in a weird way, the play still feels relevant to the day. It's a good story – there's a love story in it – so it's not all doom and gloom and desk dumping politics."
Gupta agreed the story of The Empress could also be seen through the lens of modern slavery in 2023 – where many migrant women endure abuse and have little hope for justice – saying the situation has not improved much.
She said, "Women still get trafficked. They are still abused by men in the family, where they're looking after the children. And, of course, racism in this country is also very much present; so, yes, the play is very universal in that respect.
"This is a very important story and I think the play has a lot to say about the present circumstances," said the 59-year old playwright.
The Empress stars Raj Bajaj as Abdul Karim, Tanya Katyal as Rani Das, Aaron Gill as Hari and Simon Rivers features as Dadabhai Naoroji.
Writing the play in 2013 involved a lot of research, with Gupta looking at archives in the British Library.
The irony was that a lot of the working class Indians – on whom the play is based – were illiterate, so they did not write letters or journals, said Gupta, revealing that it was quite difficult to find information.
"I took my inspiration from a book written a long time ago, in the 1980s by Rozina Visram, a schoolteacher in London who got really fed up with teaching the usual history. A lot of her students were Asians, and there was nothing about them – as if they didn't exist. So, she wrote this book, which is basically about people from the Indian subcontinent, who came to Britain not just as domestic servants, but also as lawyers, and politicians.
"Reading her book, it struck me that I had not seen a play about these people before, particularly ayahs and lascars. They worked very hard to build this country in many ways, yet got totally ignored and that's how I got really interested in them."
While writing the play, Gupta got an insight into the British Raj, but what she found was not surprising to her.
"It was exciting when I was finding more and more stuff, but I don't think it changed my outlook. I was brought up in a family who had a very deep and close understanding about colonisation. My great uncle was Dinesh Gupta, an Indian revolutionary, who was hanged by the British
in 1931. So, my research and whatever I was discovering wasn't exactly opening my eyes. My concern was how I can tell this story in an interesting and entertaining way which shows the lives of these people."
The Empress is now on the GCSE curriculum, and Gupta described it as "real blast of life" for young diverse students who were until then only coming across "plays by dead white men".
"I get quite a lot of Instagram messages from 16-year-olds who are studying the play, asking me sometimes very complicated questions. A few of them have said
'we feel as if we've been seen, and our stories too count,'" said Gupta.
Her family migrated from India to the UK in 1961. With a singer father and dancer mother, she was brought up in an artistic household.
Her earliest memories are seeing her parents performing dance dramas by Rabindranath Tagore with a cultural group across Europe.
"As a little child, it was very exciting. When I became a teenager, it all became a big bore for me, but I always felt very connected to my roots," she said.
Gupta's growing up years were marred with racism and name calling and the whole experience made her
"very much aware" of her race, she said. "When I was very young, there was a lot of racism. "In my school, there were no other Asians, so I felt very isolated. I was very aware of my race.
"Things, however, changed when I came to London in my secondary school years. That is what is great about London – that it had diversity and all kinds of people – Jewish, Asians, Chinese and Japanese," she said. At an early age, Gupta decided to be a writer. She joined various workshops and was told her prose was "really not very good, but her dialogues are great". She switched to playwriting. Her parents were always supportive, which was quite "unusual", she recalled, because most of her Asian friends at school were being told to become a doctor, lawyer, accountant "as nothing else will do". Gupta said of her parents,
"They were only worried that I wouldn't earn enough money – which is true. It's quite difficult to earn good money in the arts, unless you write big, blockbuster films." Having been in the arts for more than two decades, Gupta, a mother of three, recalled juggling her responsibilities at work and home.
"Having children led to a strong work ethic in me – working only between nine and five. My kids sometimes had to sit through endless plays, but my husband and mother always pitched in to help.
"Between my plays and the work I have written for radio and television, I feel like I've been doing it for a long time. It's funny how the years just go, but it never gets easier. I am better at it than I was 25 years ago, but it still feels nerve racking whenever my play is on, and the audience starts coming in," said Gupta. She likes to observe the audience's reaction when the play is on and often
"sneaks into the washroom during intervals to hear their conversation".
As more Asians make their mark in the industry, Gupta said things have improved, yet there is a lot to be done.
"But it's much better than when I first started out," she said, adding, "big organisations need to step up their game and put on more plays by much more diverse writers. "The Royal Shakespeare Company, where The Empress is going on, have barely put on any plays by Asian writers; I'm probably one of the second there."
Gupta's advice for young Asian writers was to find their passion and stick to it.
"Write what you're passionate about. Also, don't be afraid of politics. We only write to reflect the world we're living in and there is a lot going on in the world right now."
Gupta said she wished she was a bit easy on herself.
"I felt wounded by rejections and bad reviews. I used to get really offended by anything negative. (But) criticism doesn't mean much to me now," she said.
As an Asian female playwright, Gupta said her experience in theatre "has been a little bit frustrating", though she quickly added she got to work with some "reallyamazing people" at the same time.
"Sometimes, I often thought if I was a white man, I would have been more advanced in my career. But now I feel there's no point getting angry, because then you get bitter and twisted. Ultimately, people are interested in hearing different stories," she said.
The Empress is on at the Swan Theatre in Stratford-upon-Avon from July 7 to September 15. It then transfers to the Lyric Hammersmith Theatre from October 4 to 28, before heading back to the Swan to finish its run from November 1 to 18.