By:Eastern Eye
AS the month of Ramadan approaches, many families are preparing for iftar dinners, the meal that breaks the daily fast. While traditional iftar dishes may vary from region to region, one food that is commonly consumed during this time is gram flour, also known as besan. Specifically, TRS gram flour, which is not only delicious but also packed with nutrition.
Founded over 50 years ago in London by Taherally Rehmanji Suterwalla, TRS brought the finest authentic, quality South-Asian foods to the UK. Today the business has grown to become one of the largest suppliers of ethnic foods.  Products include herbs and spices and pantry staples including lentils, beans, pulses and rice.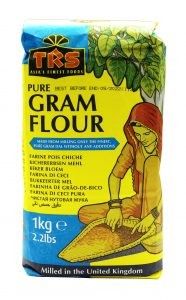 Gram flour has long been recognized as a healthy and nutritious food. It is a great source of protein, fibre, and complex carbohydrates, making it an ideal food to consume during Ramadan when the body needs sustained energy throughout the day. Gram flour is also low in fat and high in essential vitamins and minerals, including iron, magnesium, and potassium.
TRS gram flour is particularly beneficial for iftar dinners due to its versatility. It can be used in a variety of dishes, including fritters, pancakes, and curries, making it a great addition to any iftar menu. For example, a chickpea flour pancake made with TRS gram flour can be a filling and satisfying way to break the fast, providing the body with the nutrients it needs to sustain itself throughout the night.
In addition to its nutritional benefits, TRS gram flour is also affordable and easy to prepare. It can be used as a gluten-free alternative to wheat flour and can be cooked in a variety of ways, including frying, baking, and roasting, making it a convenient option for busy families during Ramadan.
Besan Chilla made with TRS gram flour