By:Amit Roy
If there is a play to catch before it disappears, it is The Motive and the Cue, currently playing at the Lyttelton Theatre at the National.
Actually, it is a play within a play. Directed by Sam Mendes, The Motive and the Cue is based on the events of 1964 when the great Shakespearean actor, Sir John Gielgud, directed Richard Burton, in a Broadway production of Hamlet.
Burton, who was then 38, had married 32-year-old Elizabeth Taylor on March 15, 1964. The couple had begun their affair on the set of Cleopatra while it was being filmed in 1962, before its release in 1963. Burton already had a wife, while Taylor was on her fourth husband.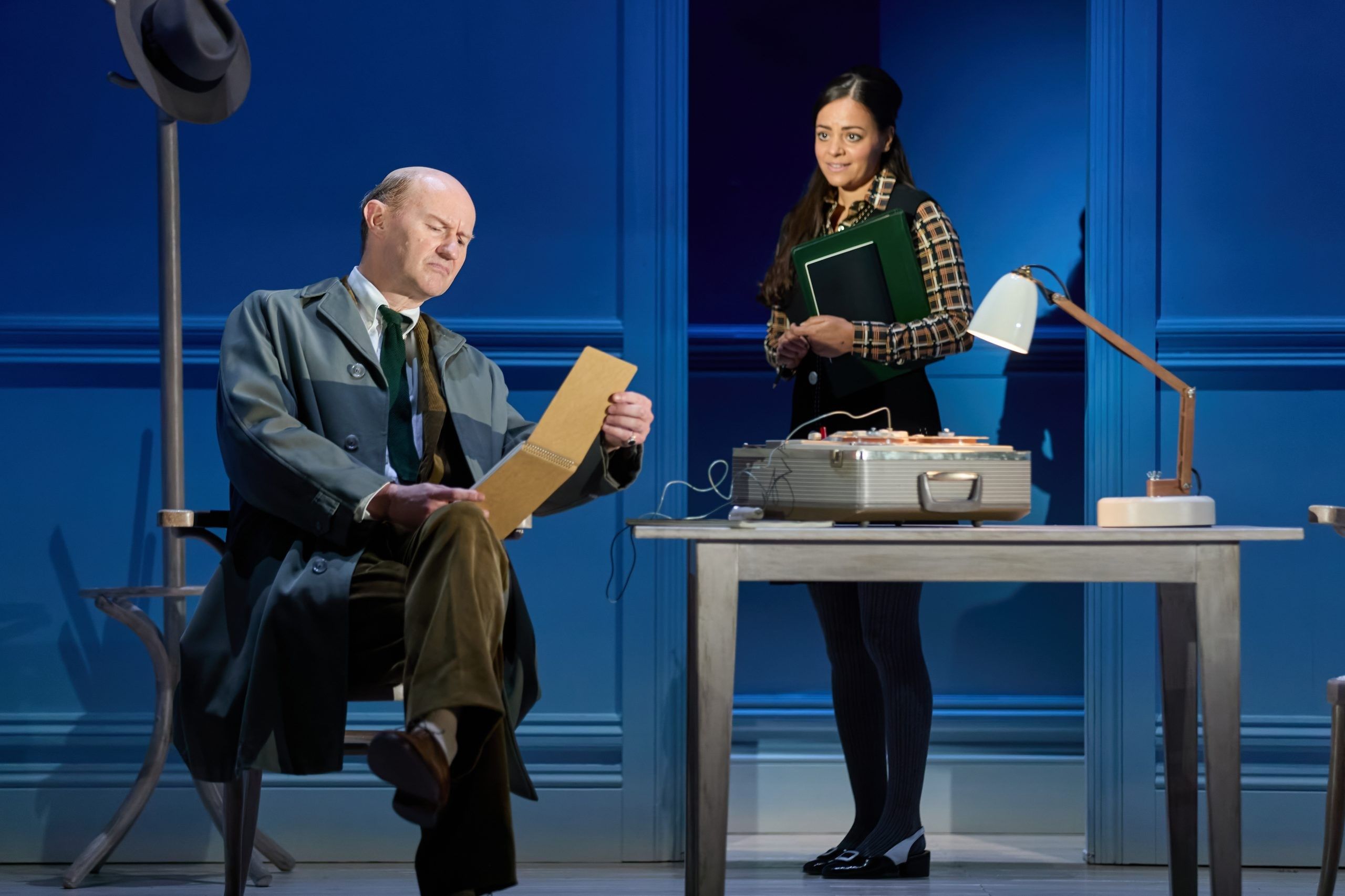 The rehearsals in New York for Hamlet lasted 25 days. The urbane Gielgud, who was 60 years old and had been knighted in 1953, wanted Burton to play Hamlet in a particular way. Gielgud also wanted the cast to wear "rehearsal clothes", not period costume, so that there would be minimum distraction from the plot of Hamlet.
Burton, the son of a Welsh miner who came from what would today be called a disadvantaged background, had radically different ideas. The result was that the two men would repeatedly clash over the reinterpretation of Shakespeare's play, The Tragedy of Hamlet, Prince of Denmark, usually shortened to just Hamlet.
Burton was frequently obnoxious and insufferable. He made life intolerable for Gielgud by sometimes turning up drunk for rehearsals. At one point, he was homophobic, taunting Gielgud for being homosexual in a way that today would see him get fired.
Some cast members published books about their experiences, and these have helped Jack Thorne write his new play, The Motive and the Cue.
Gielgud, who gets all the best lines, is played superbly by Mark Gatiss, who was cast as Mycroft Holmes, of course, between 2010 and 2016 in nine episodes of the TV series Sherlock with Benedict Cumberbatch as Sherlock Holmes.
Burton and Taylor, often seen in a luxurious hotel suite, are played by Johnny Flynn and Tuppence Middleton respectively. Taylor also gets some good lines.
When Burton is wondering if he has been miscast, she reassures him: "Of course, you can play Hamlet. You can play anything. You're the finest actor I ever went to bed with."
Eastern Eye readers, who ought to try and book tickets sooner rather than later, will be pleased that the British Asian actress Aysha Kala has been cast as Gielgud's assistant, Jessica Levy.
Gielgud introduces her at the start of rehearsals: "We won't go round the room because everyone forgets the nonfamous names and knows already the famous ones. But one name I would like to celebrate, this is Jessica, she's assisting me, she's delightful."
So we have a play within a play. Flynn is sometimes Burton and, on other occasions, he is Burton playing Hamlet. There is a large, excellent cast with others taking on the roles of the actors from 1964.
The plot of Hamlet, one of Shakespeare's most performed plays, is familiar enough. Prince Hamlet of Denmark is the son of the recently deceased King Hamlet, and nephew of King Claudius, his father's brother and successor.
Claudius hastily marries King Hamlet's widow, Gertrude, Hamlet's mother, and takes the throne for himself. That night, his father's ghost appears to Hamlet, tells the prince that he was murdered by Claudius, and demands the son avenge the murder.
At the heart of The Motive and the Cue is the question of how Burton should play Hamlet.
Gielgud, who had played Hamlet in his 20s, has to deal with a very stubborn Burton, who tells his director: "Your Hamlet is not mine." Burton lays into Gielgud: "It's a little oldfashioned. That mellifluous voice, Shakespearean- with-all the trimmings. You do it better than anyone else alive. But that is not what I want and I do not believe it's what the audience want to see."
He gets angry: "Goddammit man– will you not listen to me?"
Gielgud has had enough: "I have done nothing but – and I believe I am the director. It is I who should speak."
He tells Burton: "I've got old doing what I love, dear, you're not so young yourself, and unlike me you've wasted your time getting rich, fat and famous rather than developing your craft. If you're not in love with acting you should be, because it's the finest job in the world, and because it deserves your love.
"I saw your last Hamlet, it was ridiculous. But you are a good actor. You have the soul and the wit of a good actor. Listen to me.
"You will only prove yourself if you listen."
The response from Burton is foulmouthed: "F*** you." Just when it seemed one of them would have to leave the production, diplomatic relations are restored behind the scenes by Taylor who tries to explain Burton's damaged psychology to Gielgud: "His father was a drunk. A violent man. He abandoned Dick – and Dick was brought up by his sister."
Burton took the name of a teacher, Phillip Burton, who became a father figure and took him to see Gielgud in a play when the boy was just 17. Taylor pleads with Gielgud: "Help him. And he will help you. Fight him and he will fight you."
We see Gielgud at his most vulnerable when he invites a male prostitute to his hotel room. No sex takes place, but Gielgud sobs when the man gives him a comforting hug.
Armed with what Taylor has told him, Gielgud tries a new approach with Burton: "Dear boy, have you considered, could it be – that your Hamlet does not like his father."
Burton: "This whole play is about a man who loves his father…."
Gielgud: "He was a cuckold. He was a weak man. You loved him, but he never gave you what you truly wanted in a king. Maybe he was an adequate father, maybe he loved you, but he's not the king you'd be, you wanted more, better, and now you must risk everything to fight for him?"
An excited Burton is starting to see the light: "This is his dilemma – that's the centre of the play – whether Hamlet should fight for a man – destroy a kingdom for a man – he neither liked nor respected? You've never said this before."
Burton goes on: "The motive and the cue. Hamlet's own words. The motive is the spine of a role – the intellect and the reason – the cue is the passion – the inner switch which ignites the heart. We can colour ourselves with limps and canes, with green umbrellas and purple suits, but he cannot escape the motive and the cue."
Burton recites the famous "To be, or not to be" speech, whereupon Gielgud tells him: "And that is a Hamlet I have never seen."
It turns out the production, referred to as "Burton's Hamlet", was a triumph. It opened on April 9, 1964, at the Lunt-Fontanne Theatre in New York and played to packed houses for 137 performances before closing on August 8, 1964.
The Motive and the Cue is at the Lyttelton Theatre at the National until July 15, 2023