By:Asjad Nazir
Perhaps the most surprising British Asian book published in 2022 was 'Sex Bomb: The Life and Loves of an Asian Babe'.
Apart from being an accomplished debut, the acclaimed memoir tackled taboo subjects, presented a unique protagonist, and offered up the kind of comedy not seen before.
The widely acclaimed book from hijab-wearing stand-up comedian Sadia Azmat, set to be published in paperback on Thursday (25), explores religion, sexuality, dating, culture clashes and taking steps against all that is expected from a 'good Muslim' girl. The book, adding to the comedy career for Azmat, has been described as a testament to embracing who you are, sexual fantasies and all, regardless of the (often patriarchal) societal expectations.
Eastern Eye caught up with the fearless East London-based writer to discuss her debut book and why she didn't think it was too controversial. She also revealed her inspirations and comedy hero.
What first connected you to comedy?
It felt like comedy was addressing the elephant in the room, calling things out that we weren't brave enough to unpack in day-to-day life. There was a sort of power in the low status – it was unthreatening and yet so undeniable.
What led you towards writing this book?
Writing a book has always been something I've wanted to do, but didn't know how to get involved in. I don't have any publishing contacts or friends and my background is comedy and performing. Fortunately, I've always been writing whether it's jokes or articles. In 2019, my article for Metro, 'Horny women like me aren't supposed to exist during Ramadan', went viral. It affirmed to me that this was definitely something that needed to be covered as like everyone else, Muslim women also have wants and needs. I never identified with the media narratives about us being 'repressed' and I felt an authentic, first-hand account like Sex Bomb was long overdue.
Tell us about the book?
The book is a memoir and tells you everything you ever wanted to know about my life story. It includes lots of personal tales, lessons and even some standup comedy. There's something for everyone. It's fun, fresh, and lovely to be able to write the story I wanted to.
Were you at any point fearful that this book may be a little bit too controversial?
No, not really, I've been performing comedy for years and I rarely censor myself. I think people know that times have changed and so it's not like a book can take all the blame of the lost opportunities for conversation. I'm hoping people can use some of the experiences to either learn how to do things differently and have better relationships themselves.
How much has the universal praise for this book meant to you?
Support is always a big deal and some of the DMs have been so heartfelt and unexpected. It's really lovely when people enjoy what you do.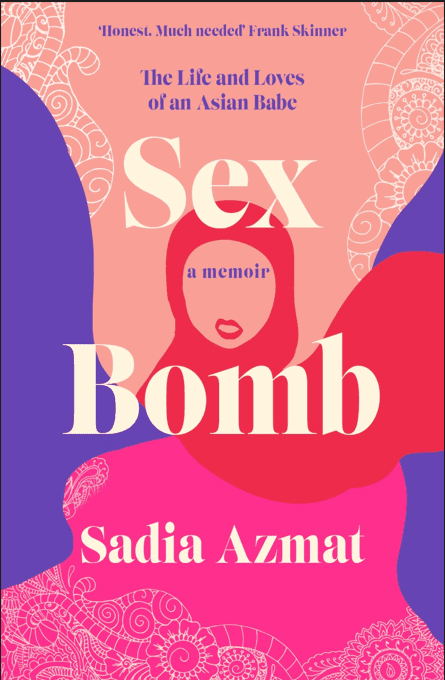 What has been your most memorable moment during the journey with this book?
I was invited to appear on Frank Skinner's show Sky Arts at Hay Festival. It was a dream come true meeting such a comedy legend and for him to read my book really means a lot. He quoted it as 'honest, surprising, much needed.'
Is there one part of the book that is your favourite?
I have a bit about a disastrous date. It's a bit bittersweet. I'd say it's up there because it was really upsetting at the time, but when I wrote about it, I was able to look back on it and laugh. It was nice to see how much I'd moved on.
Who are you hoping this book connects with?
It would be great if women – particularly ethnic women – enjoyed the book. It's for everyone but on a personal note I have a feeling that ethnic women have been underserved when it comes to original art and entertainment.
What can we expect next from you?
You can watch this space – follow me on Instagram @sadia_azmats
Could you tell us what is happening with you on the comedy front?
My book comes out in the US on August 29 and so I'm heading Stateside for a few months to tour.
Who is your own comedy hero?
Too many names to mention. I list my personal favourites in the book. I've learnt a lot from American comedians such as Patrice O'Neal. They are a masterclass on trusting your own gut rather than in the UK, which is about pandering to audiences trying to chase acceptance.
What according to you is the secret of great comedy?
Well, if I told you that, it wouldn't be a secret!
What inspires you?
These are really good (and tough) questions. Lots of things inspire me. People exceeding their own limits. I think so often this world can have the effect of wearing us down and for the human spirit to rise up against that, even when the odds are stacked against them, is true strength.
Why should we pick up your debut book?
Sex Bomb: The Life and Loves of an Asian Babe is released by Headline May 25, 2023. Please get a copy. It's original, honest, fun and a great read. Every sale makes a difference and if you get this for yourself or as a gift for a friend, it's received lovely reviews and you will definitely laugh along the way. Plus, it's got a lovely image of me and who wouldn't want that?
Twitter: @ sadia_azmats_