By:Kimberly Rodrigues
A former Gurkha soldier named Hari Budha Magar, who lost both legs in a bomb blast in Afghanistan, has achieved a significant milestone by becoming the first double above-the-knee amputee to conquer Mount Everest.
At the age of 43 and residing in Canterbury, Kent, Budha Magar completed this remarkable feat just days before the 70th anniversary of Sir Edmund Hillary and Sherpa Tenzing Norgay's historic ascent of the world's tallest mountain, The Times reported.
Reaching the summit of Everest, standing at 29,000 feet, at around 3 pm on a Friday (19), Budha Magar's first photograph from the summit was sent only after his descent was completed on Sunday (21).
Reflecting on the challenging journey, he described it as an arduous task, surpassing his expectations in terms of difficulty.
Upon reaching the summit, Hari jubilantly exclaimed, "We did it!", acknowledging the collective effort that contributed to their success.
Speaking via satellite phone, Hari had shared his reflections on Twitter stating, "That was tough. Harder than I could have ever imagined. We just had to carry on and push for the top, no matter how much it hurt or how long it took. If I can climb to the top of the world then anyone, regardless of their disability, can achieve their dream. No matter how big your dreams, no matter how challenging your disability, with the right mindset anything is possible.
"When things got really tough it was the thought of my amazing family and everyone who's helped me get onto the mountain that pushed me to the top. Without the support of so many this expedition simply wouldn't have been possible."
Budha Magar and his team utilised a unique set of equipment for the climb, including custom-made prosthetics with built-in heating to prevent frostbite, interchangeable feet for different terrains, and extra-thick gloves due to his increased reliance on using his hands compared to other climbers.
He also mentioned that his walking gait is like that of a penguin, requiring approximately 30% more energy than an able-bodied climber.
Expressing his gratitude, Budha Magar acknowledged the immense support he received from his family and the individuals who helped him throughout the expedition.
Notably, he credited his expedition leader Krish Thapa of HST Adventures, another former Gurkha and SAS mountain leader, who is now an esteemed explorer.
Following his return to the UK, Budha Magar plans to celebrate the 70th anniversary of Everest's first summit, coinciding with his own significant achievement.
His expedition to the Himalayas, which commenced in March, carried the motto "No legs, no limits."
Along with Thapa, Budha Magar has previously climbed Kilimanjaro in Tanzania, Mont Blanc in Europe, and Mera Peak in Nepal, becoming the first double above-the-knee amputee to scale a peak higher than 6,000 meters (19,685 feet).
It is worth noting that Nepal initially imposed a ban on solo climbers, blind individuals, and double amputees, citing safety reasons.
However, Budha Magar, alongside other disabled athletes, successfully challenged this ban in Nepal's Supreme Court, ensuring his opportunity to climb Everest.
With legal obstacles overcome and more than £350,000 raised, he was able to embark on his journey. Budha Magar's life has been marked by overcoming adversity.
In 2010, Budha Magar's unit was deployed to Afghanistan, where he experienced a life-altering event. While on patrol with nine others on a mission to survey and repair a well in Helmand province, Budha Magar found himself at the rear of the patrol when an improvised explosive device (IED) detonated nearby.
Emergency first aid was administered by his comrades, who called for a helicopter evacuation. He was transported to Bagram air base, where his right leg was lost, and his left leg, which was severely injured, had to be amputated.
After spending a month in the hospital and facing the challenges of learning to walk with prosthetics, Budha Magar also battled post-traumatic stress disorder during his recovery.
Reflecting on those dark times, he shared with The Times that he believed his life was over, and he resorted to heavy drinking, which left his hands trembling.
Today, Budha Magar draws motivation from his climbing endeavours to inspire hope in others who have experienced similar shocks and fears. He believes that all disabled individuals face their own metaphorical mountains to climb.
Budha Magar, the remarkable individual who overcame immense challenges, also received the prestigious GG2 Achievement Through Adversity Award 2023 in March.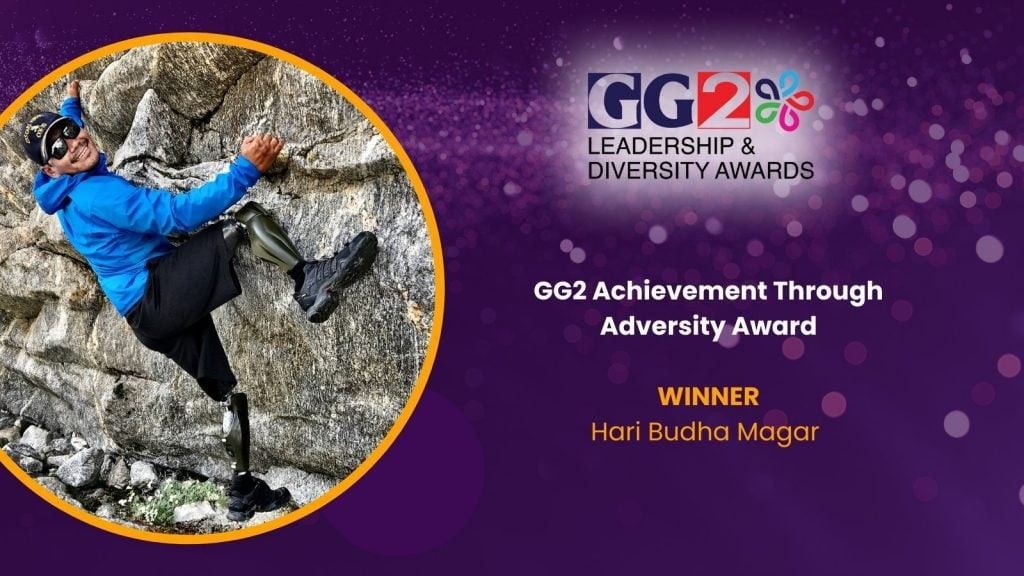 This accolade acknowledges individuals or groups who have demonstrated extraordinary accomplishments in the face of difficult circumstances or adversity. The award is presented annually by the GG2 Diversity Conference in the UK, with GG2 (Garavi Gujarat 2), a British-Asian publication, focusing on news and features related to the British-Asian community.