Whether it is her striking good looks, amazing acting ability or brilliant body of work, there is a lot to love about Madhuri Dixit. She is also arguably the finest dance exponent in Bollywood history and set a standard no one has ever reached.
With that in mind, Eastern Eye decided to celebrate the cinema icon's 56th birthday this week next Monday (15) by listing her top 10 songs in chronological order, limiting ourselves to one per film.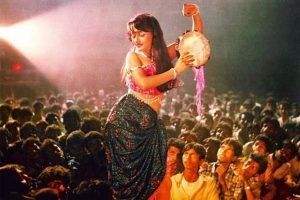 Ek Do Teen from Tezaab (1988): This top track was not only a star-making moment for Madhuri Dixit, but it also re-introduced the item number back into Bollywood. The dance number became such a rage that it helped turn Tezaab into the highest grosser of 1988. The impact was such that the long-running Filmfare Awards finally started giving out a trophy for Best Choreographer and Saroj Khan happily accepted the first of many she would win.
Dhak Dhak Karne Laga from Beta (1992):This wasn't a traditional dance number with technical moves, but still made a huge impactand earned Dixit the nickname 'dhak dhak' girl. The sensual moves and gyrations of dance queen Dixit mesmerised audiences in the highest grossing film of that year. It would earn Saroj Khan a fourth Best Choreography award in five years.
Choli Ke Peeche from Khalnayak (1993): Itwas no surprise that Saroj Khan would win her fifth Filmfare Award in six years for BestChoreography for this magnificent dance moment. Although the song got into trouble for the naughty lyrics, it is so much more than that and saw the undisputed queen of theBollywood dance set the screen on fire with sizzling hot moves.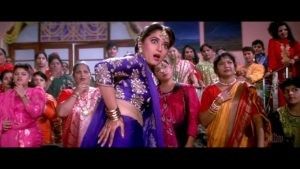 Chane Ke Khet Mein from Anjaam (1994): Itmight have been a psychological thriller, but the stand-out moment from this movie wasthe stunning dance number performed byDixit. The visually delightful movie momentincorporated an iconic twirl that could haveonly been performed by the brilliant dancer. Didi Tera Devar Deewana from Hum Aapke
Hain Kaun (1994): This may not have had the complex dance moves or intricate choreography but still makes the list because it was just so much fun. The fabulous song performance filled with iconic moments inspired all Indian weddings in some way and helped the movie to become the highest grossing in Hindi cinema history at the time.
Mera Piya Ghar Aaya from Yaraana (1995): Perhaps the only thing people remember about this romantic thriller is this incredible dance number that confirmed how dangerous Dixit's hips are. The superbly choreographed songs bounced beautifully between contemporary and classical moves.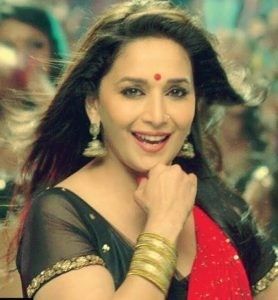 Kay Sera Sera from Pukar (2000): The dynamic dance duet saw Dixit team up with ace
dancer/choreographer Prabhu Deva. Two of the greatest dancers in Indian cinema history used Bob Fosse-inspired choreography and a catchy song to create a memorable musical
number filled with magnificent moves. It remains one of the most unique Hindi dance numbers of all time.
Dhola Re Dhola from Devdas (2002): The mega-budget movie saw Madhuri Dixit perform magnificent dance numbers including Maar Daala and Kaahe Chhed, where she danced effortlessly in a costume that weighed nearly 30 kgs. But this technically flawless dance is regarded by many as perhaps the greatest in Bollywood history. Dixit had teamed up with Aishwarya Rai Bachchan on a perfect dance number that combined an amazing set, incredible choreography, beautiful costumes and so much more. Bollywood's greatest choreographer Saroj Khan admitted it was the toughest dance number she ever worked on and was rewarded with 17 awards for her efforts.
Aaja Nachle title track (2007): The actress made a triumphant return to Bollywood after taking a long break and showed she had lost none of her dance magic. The terrific title track seamlessly combined a catchy song with Dixit's flawless dancing. She combined her technical excellence with a contemporary feel on the Vaibhavi Merchant-choreographed number filled with feel-good energy.
Ghagra from Yeh Jawaani Hai Deewani (2013): Dixit showed that she could mix it up
with the younger generation as she teamed up with Ranbir Kapoor on this Remo D'Souzachoreographed song. She used all the dance weapons at her disposal, from hip thrusts to expressions, technical brilliant moves, and star presence. The Bollywood queen confirms that there is no one quite like her