I feel I've just been in an Indiana Jones's movie and the swashbuckling leader was Pujya Morari Bapu (Bapu), donning his black shawl and with the Ramayan in hand.
For three weeks of my life, I wasn't fully aware of what was about to come – travelling through the depths of India to find mystical and mythical places, Pujya Bapu slaying whatever came in our way so the path would be clear for us to drink in the most magical experiences.
This adventure was called the Dwadesh Jyotirling, 12 Jyotirling Ram Katha Yatra – a one of its kind journey and it is not for the faint hearted.
I thought it was a katha in a train, moving calmly around India. That's how it was when I was on the "ship katha" and the "plane katha", but just like the Mansarovar Kailas Katha in the Himalayas in 1997, I was researching less and assuming more.
Jyotirlinga is Sanskrit for sign or mark of light, radiance. In the Shiv Mahapuran, it is mentioned that there are 64 Jyotirlings all over India; of those 12 are particularly poignant. These are the places where Lord Shiva himself appeared to help those in distress, who were anguished or were suffering. Each Jyotirling has a unique and mesmerising story.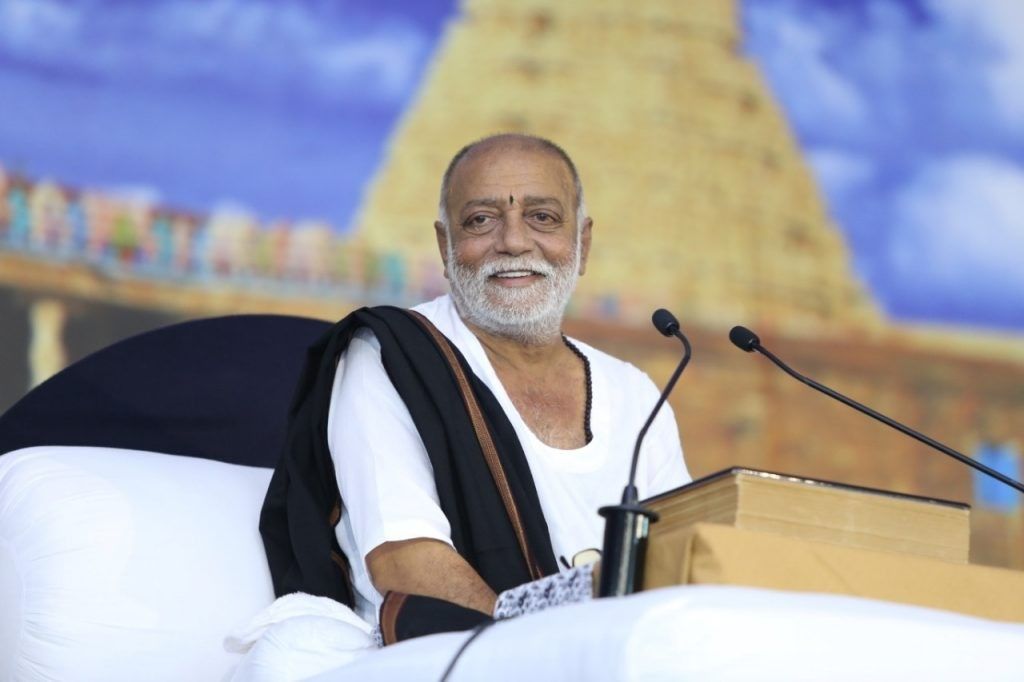 In India, the 12 main Jyotirlings are in Kedarnath in Uttarakhand, Vishvanath in Uttar Pradesh, Baidhyanath in Jharkhand, Mallikarjun in Andhra Pradesh, Rameshwaram in Tamil Nadu, Nageshwar in Maharashtra, Bhimashankar in Maharashtra, Trayambakeshwar in Maharashtra, Ghrishneshwar in Maharashtra, Omkareshwar in Madhya Pradesh, Mahakaleshwar in Madhya Pradesh and Somnath in Gujarat.
The katha took place in and around the 12 Jyotirlings. The schedules and plans were meticulously organised. Information was disseminated through websites and group announcements on WhatsApp. This was invaluable as we soon realised the schedule was fluid. We would get messages in the morning and at night.
Plans sometimes changed and we had to quickly adapt. This was mostly to do with train schedules and the warmth and yearning of people waiting at every station to greet Pujya Bapu, just to get a glimpse of the divine eminence and to cheer us on.
After the arduous journey to Kedarnath, which felt like a full challenging yatra in itself, our train journey commenced from the picturesque Rishikesh – where the holy River Ganga flows through the city, surrounded by temples and ashrams, the yoga city of the world in the foothills of the Himalayas. It hosted a colourful, musical and vibrant send-off to all the travellers on the train katha.
Our journey also took us to temples in India that have significance in the Hindu culture. These included the Jagannath Puri Dham temple in Odisha; Rameshwaram in Tamil Nadu, the Tirupati Balaji temple in Andhra Pradesh, Dwarkadish Dham temple in Gujarat and Talgajarda, also in Gujarat.
This was a gruelling schedule to complete in three weeks, covering 12,000 miles throughout India, but it was also incredible.
I was tired, but the momentum and adrenaline kept me going. I caught an eye infection that was going around, which made things difficult; nevertheless, I persevered. I didn't miss a day travelling to tough destinations to reach the katha and for darshan.
When we started, our journey the excitement was palpable. As we went along, we realised this was not without challenges.
Sometimes we would get five hours of sleep, although usually it was fewer than that.
Mostly, we ate meals on the train, in a beautiful dining room carriage. It felt like dining in the Orient Express. Sometimes, we had a buffet fit for a king at the katha venue. We slept in shared cabins. The train was cleaned and our beds were made daily by the train staff.
There was one question people asked, "do you have an en-suite?" The answer is no. No one had an en-suite.
We had common bathrooms and toilets, and, yes, it was a challenge.
Many of the days we were booked into a hotel to freshen up and get ready when we arrived at destinations in the early hours of the morning. We ran around with our backpacks to get ready and reach the katha and darshan of the Jyotirling.
There were times when we were weary and anxious about timekeeping, so we didn't miss our train. But we were so well looked after by our humble hosts and organisers that if I could do this all over again, with them at the helm, I would do it in a heartbeat. I am truly grateful to them.
A reporter at the Rishikesh press conference asked Bapu, "what suvidhas (facilities) will the travellers be receiving?"
Pujya Bapu replied, "My flowers (the travellers) are not here for suvidhas, they are here for tapasya" – ploughing through circumstances that may be difficult in order to reach a higher excellence and spiritual enlightenment.
Nevertheless, despite the challenges, when we sat in the katha to listen to Pujya Bapu; we were enraptured, hanging on to his every word.
There were many occasions when he spoke that I felt incredibly blessed to be there with him on this journey. He spoke about how this was organised by Mahadev himself and we were destined to be here.
Listening to Pujya Bapu recite the Manas Ramayan is more like a chat about life with a friend, than attending a religious gathering.
"Live in the present moment," Pujya Bapu said, "life does not allow you rehearsals".
"Whatever you want to do, you must do it now, whether it's composing a song, writing a book, singing, whatever it may be, this is the moment. Live every moment in the present."
Pujya Bapu said in life's daily challenges we must live with truth, love and compassion as our guiding goals.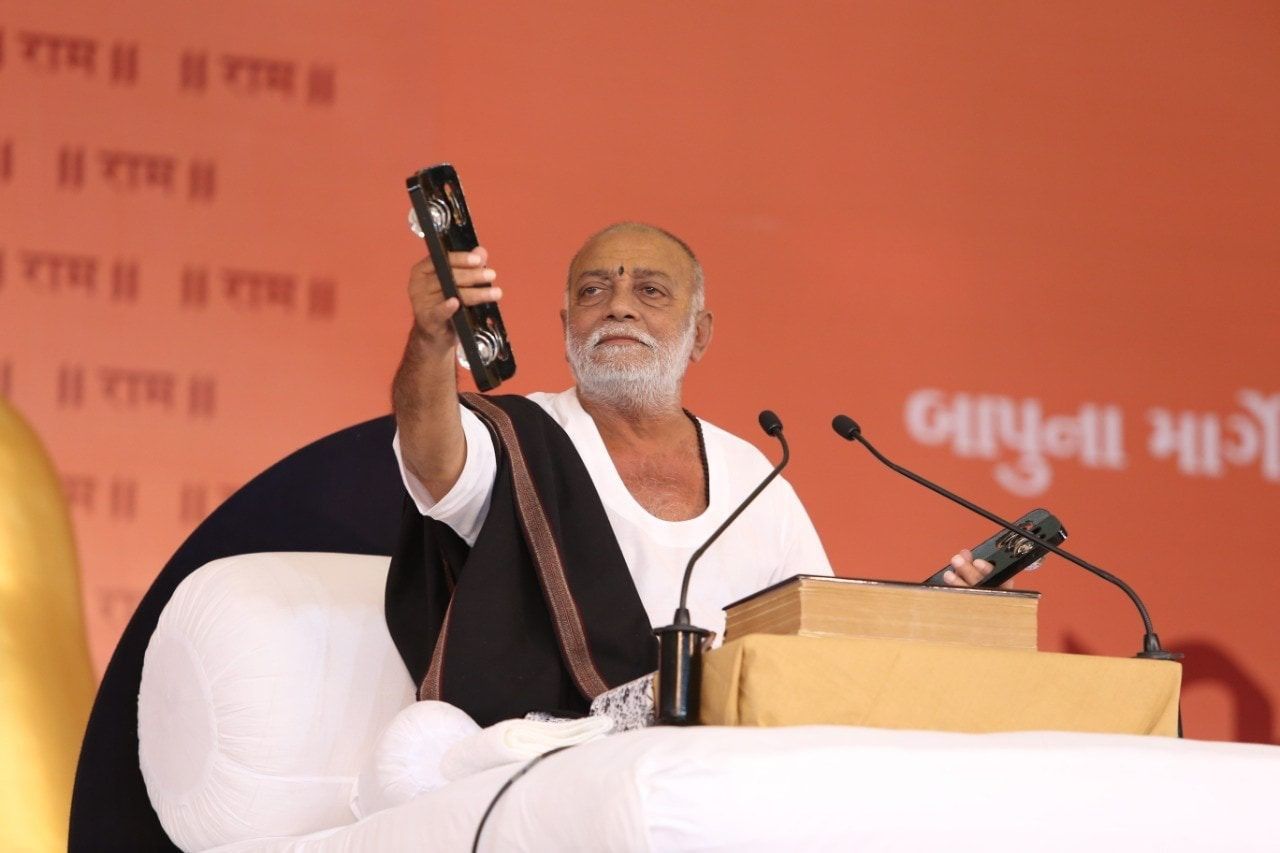 In this day and age, which is called Kali Yug (Kalyug) in Hinduism, Pujya Bapu said tapasya (tap) is not about sitting in one place putting one's body through hardships and sacrifices in order to worship and please God. In Kalyug, tap is when you endure jealousy, grudges and insults thrown at you.
In today's times, people can destroy others with their irsha, dwesh, ninda (jealousy, grudges, insults and lies), but one must not let people like this affect us and shake our faith.
When someone has reached a position of power, wealth and status, people will start condemning them with lies as they can't bear that someone else (and not they themselves) has reached such a great position.
Pujya Bapu said by repeating lies, they become ingrained in people's minds as the truth and this is disinformation.
Money is not evil, he said, but those who engage in obtaining padh, dhan, vidya (status, money, knowledge) by cheating, exploiting, manipulating others or by associating with people who beguile others, their status, knowledge, then wealth becomes evil. Such people and their actions invite evil through their insidious behaviour.
One should donate 10 per cent of their wealth in helping the less fortunate. This is our humane duty, Pujya Bapu said.
These incidences are experienced by most of us in life. As we navigate through each day, it helps us to remember these principles that Pujya Bapu explained.
He professed his undying bharoso, (faith) in God. Despite the naysayers and the destroyers who tried to target him for venturing into such a bold act that defies convention, Pujya Bapu was not worried as the train had Hanuman at the back, pothi, (Manas Ramayan) at the front and bharoso in the middle.
He said this train katha project was no small feat to achieve, yet he said all is moving along seamlessly – not due to him or the organisers, but a higher divine power from Mahakal himself.
We had the wind on our backs.
To paraphrase Pujya Bapu, Hanuman was with us, Manas Ramayan was with us, Lord Shiva was with us and for us, Pujya Bapu himself. A strength that was unbeatable and these were not just words, this was felt. It profoundly overwhelming.
Upon returning and facing life's daily challenges I feel I have a strength nudging me along. I don't know what spiritual divinity is, but having been on this trip I feel I'm much closer to complete contentment, peace, grace and fortitude.