In an exclusive interview given to Garavi Gujarat Weekly, world-renowned Kathakar Sant Pujya Morari Bapu said in his 921st Sri Ram Katha at Jesus College, Cambridge University, that "the essence of the Ramayana is "truth, love, and compassion". If we bring it into our lives, Rama Rajya will come on this earth." Bapu also discussed Sanatan Dharma, the Gujarati language, Sanskar, India, and various other topics. The interview is presented here.
"What is our future when Gujarati language, culture, and morality are wiped out of every home? In response to that question, Pujya Morari Bapu said, "I am constantly speaking for our language, culture, and traditions. Here, I am going to speak with more emphasis. I have also said to speak only Gujarati at home and teach children to read a little Gujarati as well. Today, stories of the Mahabharata and Ramayana are all available on mobile. There is so much to interest children in it. A saint will come and stay for a few days and leave, but after his departure, it is the duty of the family to take care of their children. They should give time to children and sit with them. But today, parents don't have time to do that. And then the children watch everything else on the phone. This is a question to be taken very seriously. Even the people of your generation will understand everything, but if this continues, the next generation will not be able to understand anything.''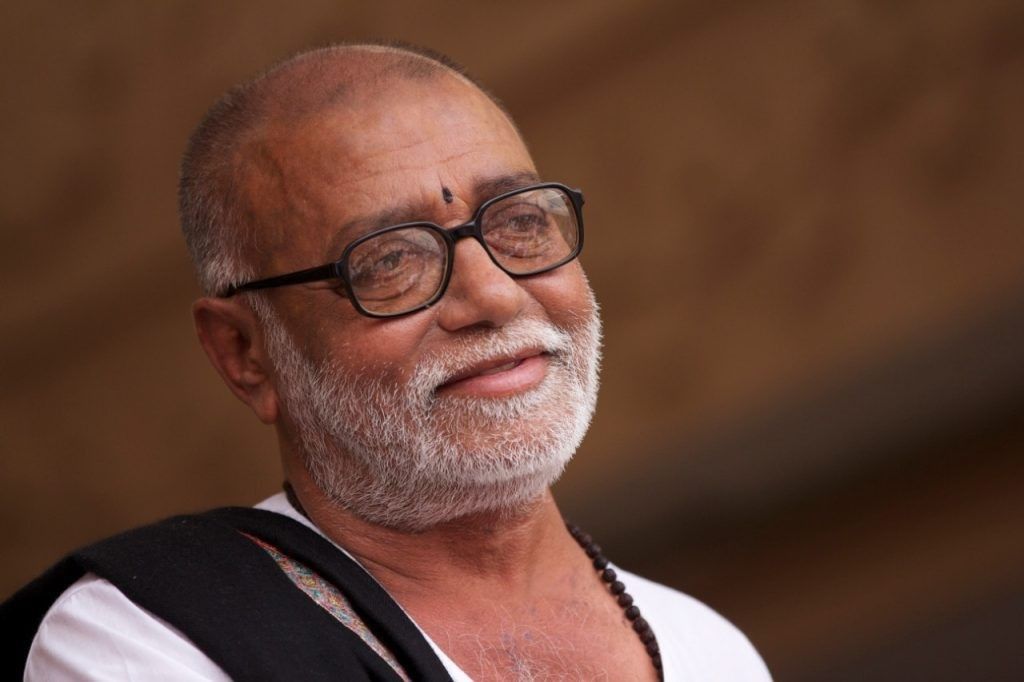 Pujya Bapu added to it and said that ''The English language is the language of the world. Children need to speak that, but at home, they must speak only Gujarati, Hindi should be spoken. Whatever has a mother tongue must speak it. Children should be constantly introduced to the characters of the Ramayana and Mahabharata. I will definitely say this: There is Ram Rajya in the UK. Leading leaders like Lord Dolar Popat say that there is Ram Rajya in the UK. The UK has given us a lot and enriched us all. Mr. Sunak is the prime minister. Do you think Ram Rajya is possible in India?
Pujya Marari Bapu replied, "Why is it not possible? Ram Rajya is possible all over the world. A man should give up his obstinacy and worship Lord Rama. Forget whether Lord Ram was the God of Hindus or the Sanatanis. God is of the whole world; He dwells in the world. If we want to bring Ram Rajya, we have to grasp the universal ideas of God. And if we grasp the universal ideas of God Ram's truth, Ram's love, and Ram's compassion, no religion can stop us. If it comes into our lives, then not only Britain or India, but we can create an environment of Ram Rajya in our Vasudha (Earth). I can't vouch though. If I can see it, that's fine; such an India, such a world, the next generation will see the need, and this will affect the matter.''
Religious differences, corruption, caste, politics—all this affects India too. In response to the question of whether it will be solved? Pujya Morari Bapu said that "a good atmosphere is becoming prevalent in India too. And even if we, in our own way, see anything like that, I think it's the darkness before the sunrise."
You are encouraging interfaith dialogue through Ram Katha discourse? Minorities, even Hindus, complain of pressure on themselves. How will the discourse you give in the Katha make any difference to us, Hindus? Pujya Bapu said that a 30 per cent difference will be resolved. If this is often said in some countries or by some classes, then they should stay in India for at least one year. Then you should comment. Rather than talking about a specific issue, let's talk about something good happening in India. We should see how much more there is than that. They should listen to global Sadhu saints. Just because of our prejudice, let us say that India is like this or that. In my view, there is a very good environment in India.''
In response to the question about the emphasis and importance of sects in Hinduism and how various sects are digging the grave of Sanatan Dharma, Morari Bapu said that "no one can dig the grave of Sanatan Dharma. The roots of Sanatan Dharma are not in the earth but in the sky. If it is in the ground below, you can dig it out from the ground. The Bhagavad Gita says that this is an upward trend. Its roots are high, and to touch those roots, there should be requirements of the height of thoughts, there should be dialogue. Who will believe that if the branch of the banyan tree says that there is no root, we are the only roots?
You are manifested from the root itself. And then talk about cutting the root itself? They are intellectually delusional; I know their network is organised. But, within our limits and remaining in sainthood, I have been doing modest work. Many don't like it. But this is a matter of concern. So nobody should understand the immensity of Sanatan Dharma. Our children need to be understood to the core. Because today, by changing the stories of our Mahabharata and adding their own stories, they are mixing everything. At such a time, we need to create more awareness of Sanatan Dharma, which is our original religion. For that, my pulpit (Vyas Peeth) is doing the work of awakening within my limits and in the modesty of my monkhood.
Are NRI youth now more drawn to Indian scriptures? What should be done to increase it? Answering this question, Pujya Bapu said, "Our Sanatan Dharma and our Vyas Peeth do not reprimand the youth, You miss this; you are committing a sin by doing so, so you should atone. Instead, we should hold their shoulders and love them. And as I always say, I have no monopoly to correct anyone. I want to accept them as they are. As a result, see in this story how many youths are coming. Some of my young brothers and sisters, who are coming do not even understand my language, but just seeing the scene brings tears to their eyes. This is a very good omen, a good sign, and I think it will bring great results."
Giving the life lesson of the Ramayana that is relevant to the various challenges of today's world, Pujya Bapu said, "I will only say that I have only one essence of the Ramayana, and that is 'Truth, Love, and Compassion.' It is the essence of the entire Ramayana, condensed. If you and I learn so much that the 'truth' is for me, we will not worry about whether someone else speaks the truth or not. 'Love' should be mutual and have 'compassion' for all. This is what Lord Rama has done. And this is eternal. It is relevant in every era. We must go this way. And if we go that way, the great message of the Ramayana will establish the kingdom of love in our hearts, in our homes, in our nation, and on the whole earth. It is the establishment of this state of love that I call Ram Rajya. My best wishes to your readers. As the month of Shravan begins tomorrow, my best wishes to all for Shiva worship.''
oṃ sarve bhavantu sukhinaḥ
sarve santu nirāmayāḥ
sarve bhadrāṇi paśyantu mā kaścidduḥ khabhāgbhaveta।
oṃ śāntiḥ śāntiḥ śāntiḥ॥
Jai Siyaram.