By:ASJAD NAZIR
PUNJABI films are thriving globally, and Jimmy Sheirgill played a large part in making that happen. He was one of the first frontline Bollywood stars to take on lead roles in Punjabi cinema and helped an industry that was at a standstill, with winning performances.
The in-demand actor carries on that inspiring journey with his latest film Tu Hovewin Main Hovan, a UK-set comedy drama about a married couple with children who are re-evaluating their relationship. The relatable film, due in cinemas on Friday (10), will add to his impressive body of work that includes all-time classics.
Eastern Eye caught up with the versatile actor to discuss his new film, passion for Punjabi cinema, dream role, what inspires him, and why he loves Birmingham.
How do you look back on your acting career?
To be very frank, I don't look back, and always look at what's coming next. Even though Covid and lockdown slowed down everything a lot, there's good stuff happening, as far as films and OTT are concerned.
Even on a personal level, the kids grow up, and you're now feeling the responsibility even more. The kids are going to college, university, and everything like that, so, there's barely been any time to sit down and look back at what I have done.
You must be proud of your body of varied work?
Yes, it does feel great when people speak about films of yours they have loved and ask questions about them. That does feel great. But overall, I don't think I'm the kind of person who sits and looks back.
One of your greatest achievements is how you helped lay the foundations for the revival of Punjabi cinema. Was that the plan?
No. So, basically, I did my first Punjabi film (Yaaran Naal Baharan) with Manmohan Singh jee (in 2005). He was the director of photography for my first film Maachis and for Mohabbatein. Then suddenly, he started writing and directing Punjabi movies. I was only doing my Hindi movies at that point of time. He asked if I would be interested in doing a Punjabi film. I just said, anything for you, so just did it for him. I also thought I'm a Punjabi and it is my duty, so gave it a shot. I genuinely wanted to do it from my heart, for this person who I have been so fond of, and it was my mother tongue.
What do you remember when your Punjabi film released in 2005?
I was shooting for my Hindi movies. Then the Punjabi film was released, and there was this huge kind of madness in the theatres, with people dancing. I remember the distributor in Punjab telling me that for three days, nobody had watched the film, because they were only dancing and celebrating, and then returned to watch it. That is the time something clicked in my head. I thought this can be something really big one day.
You became one of the driving forces for Punjabi cinema. What are your early memories of that?
I started doing one Punjabi film a year. For me, that one annual Punjabi film wasn't just 40-45 days of shooting, but also two-three months of promotions. I still remember we used to buy our own air tickets for places like Canada and UK, to promote our Punjabi films. We would ring friends in those countries in media to help us spread the word of Punjabi cinema on radio, TV, and publications like yours. I still remember appearing on one prime time news channel and speaking about our film –our every answer included the name of our Punjabi movie and its release date.
Can you tell us more about those early days?
In those days, most Punjabis were only watching Bollywood movies. It was almost like going to every doorstep and knocking to say that 'Punjabi films are really beautiful. That we are really working hard to make family friendly stories for you guys. Please go and watch the film'.
You must be proud how popular Punjabi cinema is today?
Yes, absolutely. Today, it's a moment of pride when people look back and say, you are one of those people who just put it all there, and it feels great. I wish I could do even more for Punjabi cinema, but there are a lot of commitments I have in Hindi, and greed as an actor to do all kinds of roles.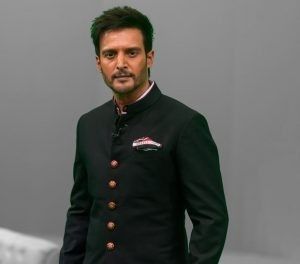 Tell us about your new Punjabi movie Tu Hovein Main Hovan?
It's a very nice topic and slice of life story that the director (Vakil Singh) has picked up. Before marriage a couple can't live without each other and want to spend every hour together. But after marriage, when things go wrong, some can't live with each other, you know what I mean? So that's the base of the story. Our parents, and grandparents would fight in the morning and be back together by the evening. Right? And then there is our generation, who want to separate at the drop of a hat, instead of trying to work it out. That is what we've come to.
You also have a younger couple in the film…
Then there is one generation below us, who are not ready to commit, despite liking one another lot. They might be in love, but are not ready to commit to each other. So, our film explores that divide in a light-hearted way and makes you question that. You have that main couple, and other dynamics in the film, which is interesting.
We have that main couple in this movie. Then you have other stories, like the parents and a younger couple having their own issues. And then you also have the kids. So, it explores a lot of dynamics and relationships.
What was the experience of shooting this film in Birmingham?
I'll be very frank with you, Asjad. We would always go for film promotions to London. If we ventured to Birmingham, it used to be very short. You drive down in the morning, do a press conference, and drive back at night. So, I never really got the chance to see Birmingham properly. But when we started shooting this film there, I was amazed. I got to see the city properly. Now, I recommend everybody to go and shoot in Birmingham because it is such a beautiful place.
What's your own favourite moment in this movie?
There are so many great moments in the film. My favourites are ones where we have attempted to keep it as real as possible. We have drawn upon real people, whether it was friends, family, situations, or human emotions. (Laughs) And even how people get a little extra emotional after a few drinks and behave a certain way. So, we have a lot of those real, relatable moments, which I absolutely love.
You previously starred opposite Kulraj Randhawa in Mannat (2006) and Tera Mera Ki Rishta (2009). What was it like working with her again?
It was great working with her again after such a long time. She is a great actor and has done such a wonderful job on this film. I'm really looking forward to audiences seeing her performance in Tu Hovein Main Hovan.
There are diverse characters of all ages from young kids to elderly parents, so would it be fair to call this a family friendly film?
Yes, absolutely. Everyone, including the kids, has a very important role to play in the film, so it is aimed at all the families. The director has also shot it very cinematically, so you want to see it on the big screen. He has given it that scale to give that great cinema experience. He's a very sensible director. It's his first film, but I've known him since a very long time because he's been Manmohan Singhji's associate for all these years.
What are your future hopes for the Punjabi film Industry?
I think it's a huge market. But we need to experiment and cross more horizons with our storytelling. I try my level best to offer up that variety, by having a serious film and then following it up with something more light-hearted or a new subject. Alone, I can't do it. Every actor and filmmaker has to keep coming up with something different each time. Then Punjabi cinema will keep growing, which is what we all want.
What inspires you creatively as an actor after all these years?
I try to look at every script as if it's my first one or the most exciting for me. Once I get into it, I try to give it my best. I do less work but like to do things which will probably be remembered even after 10 years. It's been about 23 years since Mohabbatein, and around 26 years since Maachis, but everyone remembers them. That is how I started. Films like Munna Bhai, A Wednesday, Tanu Weds Manu, Saheb Biwi Aur Gangster and so many more are remembered and spoken about. That makes you feel really good and motivated. It makes me think I've been choosing the correct subjects.
Do you have a dream role?
I think a young writer is sitting somewhere writing a script, maybe keeping me in his mind and thinking, he has not done this yet. And let me write it for him. The day he comes to me with that, it's going to be my dream role.
And finally, why should we watch your new film?
Firstly, it is a film you can watch with your entire family. You can take everyone along without feeling embarrassed, for an enjoyable film that will make you laugh, and feel so many other emotions. You will also relate to a lot of the situations, which happen in every household, without us realising it. You will see lovely visuals because this movie has been shot really nicely. It has a strong story and great dialogues you will remember, and likely want to repeat.
Tu Hovein Main Hovan is in cinemas now