British writer and editor Sara Nisha Adams announced herself as a great new literary talent with her acclaimed 2021 novel The Reading List.
That accomplished debut as a storyteller raised expectations for her newly published novel The Twilight Garden. The story set across different time periods is connected by a community garden, which was once filled with life but is now in an abandoned state.
She cleverly unites diverse people across different time periods in a relatable story about togetherness and keeping community spirit alive.
Eastern Eye caught up with the skilled author to discuss writing, her successful debut novel, new book, inspirations and why she loves writing about friendships.
What first connected you to writing? 
My love of writing grew from my love of reading. Ever since I can remember I've been carrying books around with me, as well as notebooks or scraps of paper, so I could write my own stories. I've always been fascinated by the ability to create whole worlds in your imagination, through both writing and reading. It's like magic.
How did you feel when your first book, The Reading List, was published?
It has always been my dream to be a published author, so it felt completely surreal that it came true. I do feel so proud of myself for having done it, and grateful to all the people who helped me along the way, from my publishing team, editor and agent to my friends and family too.
How much did the positive reviews of your debut book mean to you?
They were such a boost. You never know how people will feel about your book when you're writing it, and it's terrifying, but I've had so many wonderful messages from readers and reviewers saying it's become one of their favourite books, or that it found them at just the right time, which means everything. To know that these characters belong to readers now, rather than just me, is a huge privilege
Has the success of your first book put pressure on you or was it motivating?
I was much more aware that people would be reading the second one when I was writing it, which does increase the self-doubt. I had to push that aside to write freely. But I hope that people who liked The Reading List will enjoy The Twilight Garden too. And I think people who didn't like my first novel might really like this one. It's similar in tone, but so different, with many more layers and complexities (I think). It was a more challenging book to write, but it's so close to my heart now. I really hope people get from it the hope and love I put into it.
What inspired your new novel?
When I was living in a top floor flat in Stoke Newington, I was dreaming of the slightly unkempt garden below, belonging to our downstairs neighbours, and that's where the idea for the shared garden came from – it was wish fulfilment really.
Tell us more…
I loved living in Stoke Newington, but we knew very few of our neighbours, despite knowing their taste in music or favourite TV shows – having heard it through the terrace walls.
After chatting to a neighbour, who had lived there for generations, I got the sense that there was a time when neighbours invited each other over for tea and had chats over the fences.
So, I wanted to imagine that world in the novel too, depicting the change over time, and how the shared garden might bring that community back again.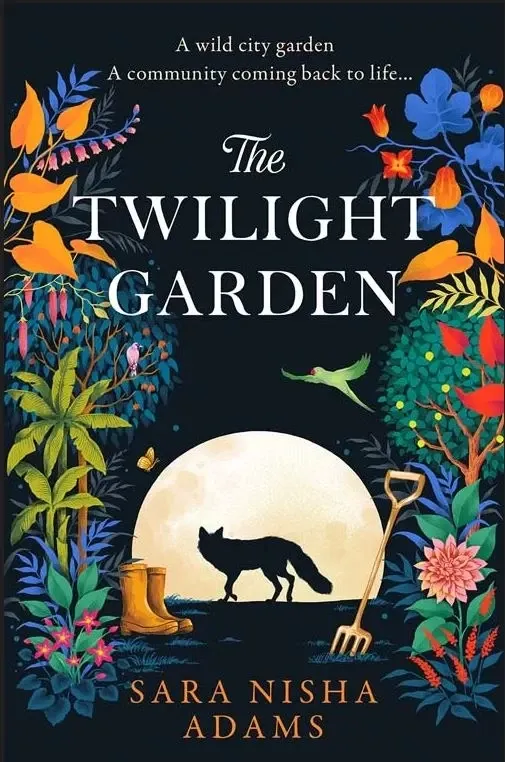 Tell us a little bit about the story?
We follow Winston and Bernice – neighbours who don't get along but share a garden. When they start receiving leaflets and photographs through their doors, they discover pictures of their garden years ago, when it was blossoming and blooming.
It might just be the seed to set them on their way.
And then we see the garden decades earlier, through the story of two best friends and neighbours Maya and Alma, who created a space for their friends and community to share.
What was the biggest challenge of writing The Twilight Garden?
The two timelines – there are lots of strands in this book, which I loved writing, but making sure they were layered and unravelling in the right way was quite a challenge – so huge thanks to my editor for helping me piece it all together as clearly as possible.
Who are you hoping connects with this story?
I hope anyone who has felt lost or out of place might connect with the characters in this book. It's so much about finding your home and finding family. And anyone who loves gardening, or is keen to start, I hope they enjoy it too.
Is it fair to say that themes of forming friendships is something that you really connect with?
Yes, I love writing about friendships. They are hugely important to me, and I love reading about them, especially about those early stages of forming friendships, and ones between unlikely companions.
As a writer and editor, what according to you makes for a good book?
Great characters and a great voice – they're always what I'm drawn in by. I love a good plot, but for me, the voice, characters and heart of the book are what keep me there.
What do you enjoy reading and do you have a favourite book?
I read all genres, but my favourite book of all time is The God of Small Things by Arundhati Roy – masterful, immersive, and heart-breaking.
What inspires you as a writer?
Other stories, and brilliant prose – when I read an incredible book, it always makes me want to push myself further, to write better. But other than that, I believe life and people are pretty inspiring.
Why do you think we should pick up your new book?
Because it's hopeful, and full of heart and characters who I really hope will 'grow' on you – pun intended – and stay with you.
The Twilight Garden by Sara Nisha Adams is available now (HarperCollins)