PRIME minister Rishi Sunak, Arsenal CEO Vinai Venkatesham and pathbreaking lawyer Ayesha Vardag were among the winners at the annual GG2 Leadership and Diversity Awards, held at the Park Plaza hotel on Tuesday (7).
Sunak took home the coveted GG2 Hammer Award for smashing through the ultimate glass ceiling by becoming the UK's first prime minister of Asian-heritage.
The evening was a double celebration for the prime minister as he also topped the annual GG2 Power List for the second year, which was unveiled at the glittering ceremony in front of politicians, inspirational leaders and celebrities.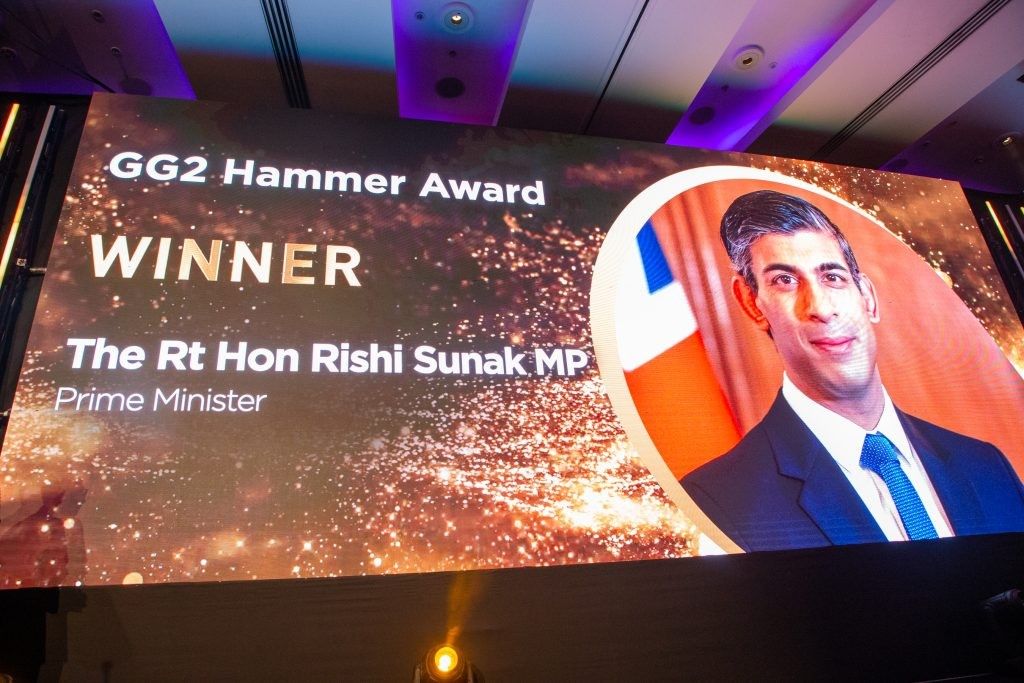 "Tonight's event and the Power List 101 is a reflection of the tremendous success the British Asian community has made across all walks of life. It's heartening to hear the stories of so many winners who have worked hard to establish themselves and build a new life with their families," Sunak said at the event in a video message.
"This is a universal story, which particularly resonates with me, with my own grandparents and parents who came to this country, not just to dream of a bright future, but also to create one. Like so many here, they were determined to contribute back to this great country, which gave us all so many countless opportunities to excel.
"Becoming prime minister has been the greatest honour of my life," added Sunak, whose award was collected by Grant Shapps, secretary of state for energy security and net zero.
The GG2 Woman of the Year went to Vardag, who is known as 'Britain's top divorce lawyer'.
Vardag has worked on some of the country's most high-profile divorce cases. It was through her campaigning and sheer determination that led to the ground-breaking 2010 supreme court ruling that ensured pre-nuptial agreements had validity in Britain with eight out of nine supreme court judges ruling in her favour.
The 55-year-old has built her firm Vardag's into one of the most respected family law firms in the country, breaking through in a traditionally male dominated profession.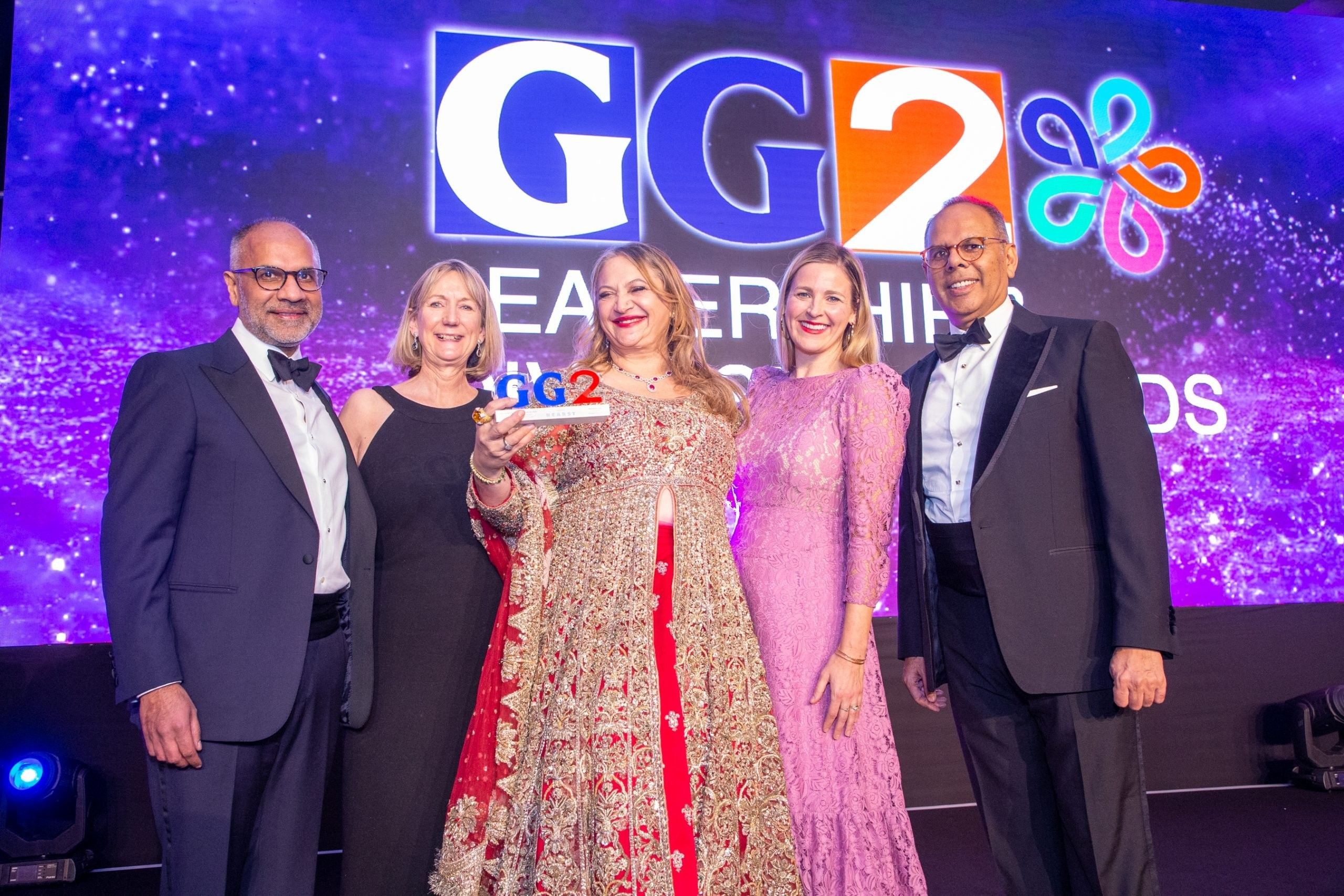 Collecting her award in an extravagant lenga, Vardag paid tribute to her south Asian heritage.
"I am half-English, half Pashtun," she said.
"I guess I finally feel strong enough to start to live as the person I really am. And that person has a big loud voice, gets very fired up about things, laughs too much, eats too much, likes bright colours and lots of pretty sparkly things and can't resist the aesthetic vibe of the East. And now wears a nose pin, like a badge of my Pathan ethnic and cultural heritage, which I long to know and feel more."
Now in their 24th year, the GG2 Leadership and Diversity Awards celebrate the achievements of Britain's ethnic minorities. They are hosted by the Asian Media Group, publishers of Garavi Gujarat and Eastern Eye news weeklies, as well as Asian Trader and Pharmacy Business magazines.
AMG group managing editor, Kalpesh Solanki, said: "The GG2 Leadership & Diversity Awards have come a long way over the last 24 years recognising and celebrating all ethnic talent.
"In an ever more polarised world, events such as this evening's diversity awards play an increasingly important role in creating better understanding and appreciation of the differences between us by bringing people together to celebrate success.
"There is more that unites us than divides us. By recognising and celebrating success each winner contributes not only in establishing a harmonious and respectful workplace but also a harmonious and respectful neighbourhood."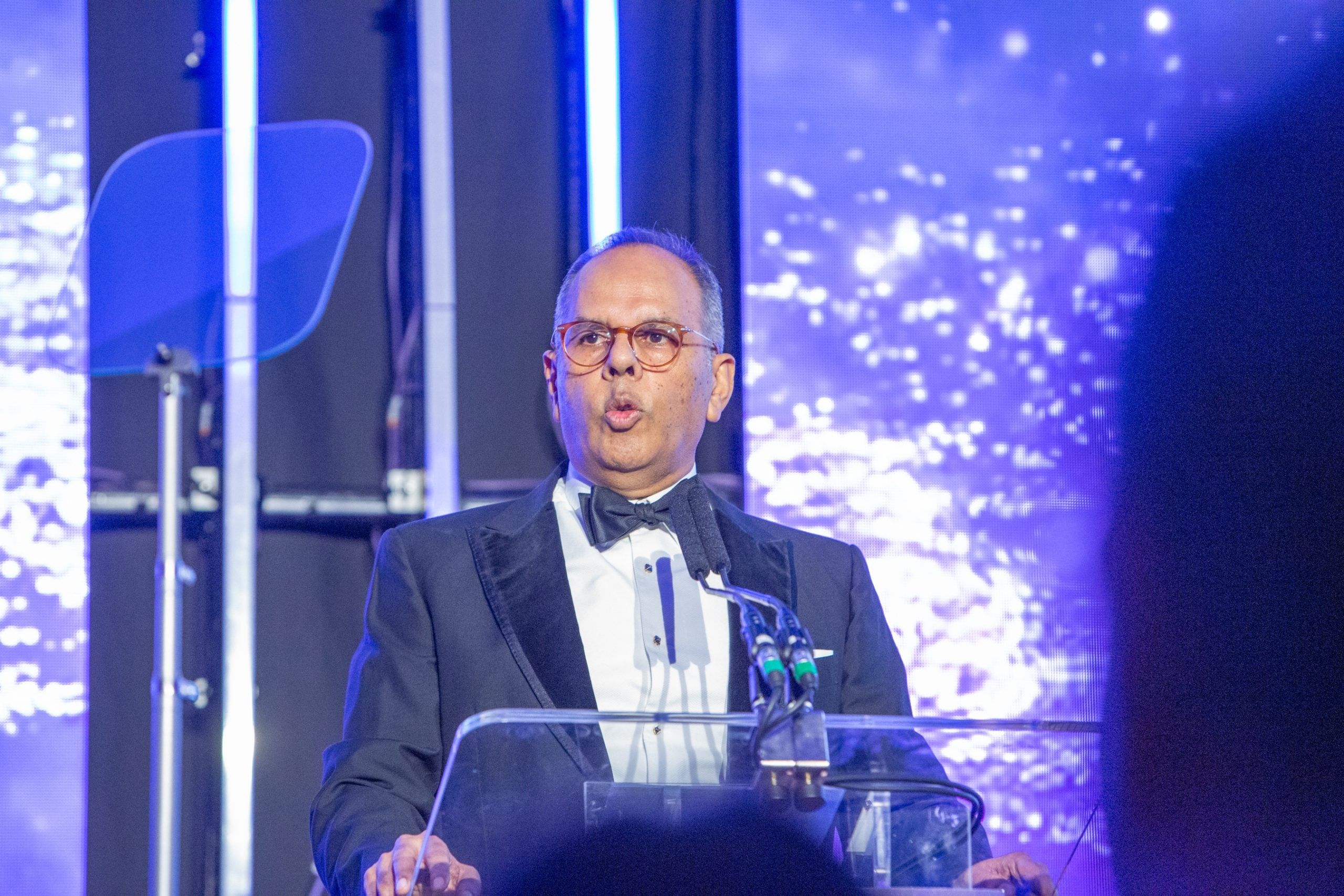 Trailblazing Arsenal CEO Venkatesham was recognised for not only being the youngest ever head of a Premier League football club but also the only one from an ethnic minority background as he collected the GG2 Man of the Year award.
He is passionate about equality and his senior executive team will be 50:50 male/female by the end of the season.
"This is part of a wider strategy to drive greater diversity and inclusion at all levels of the club for the benefit of the industry as a whole.
"Earlier this season Arsenal hosted a South Asians in Football event at Emirates Stadium where I opened the event as keynote speaker in front of 300 current or aspiring South Asian football players and staff.
"Arsenal are leading the way for diversity in football which has traditionally been a male dominated industry," said Venkatesham.
The GG2 Blossom Award, which is presented to an individual or organisation for outstanding work in the community promoting wellbeing and community spirit, went to Gregory Cohn from the charity Seeds for Growth.
Their Greening Communities initiative has had a huge impact on well-being for local underprivileged communities.
The charity works on council estates to help establish communal gardens offering practical aid in growing fruit and veg and creating sustainable communities. The charity has 150 Greening Community projects spread throughout the UK and the ambition is to create 800 new community gardens.
The charity's food initiative is assisting some 35,000 people in one London Borough alone.
Inspirational lawyer Nasreen Karim collected the GG2 Outstanding Achievement in Law Award.
Karim was recognised for breaking down barriers and stereotypes all her life.
Coming from a traditional Mirpuri family, she was married at the age 21 to a man her family chose. She separated from him two years later while pregnant and later moved to Manchester to study law, while bringing up her young son.
After qualifying as a solicitor she established a law practice which today is one of the leading firms in Bradford.
She has been a passionate campaigner for equal opportunities, especially women and has played a key role at the local chamber of commerce to promote minority businesses and as a governor of Bradford college.
Daily Mail journalist Isaan Khan won the GG2 Young Achiever Award for his undercover investigations during the Euro 2020 final at Wembley and into NHS 111 call handlers, exposing how desperate patients were being denied vital drugs by a flawed system. Both exposes led to immediate changes and were taken up in parliament.
The remarkable Corporal Hari Budha Magar, who spent 15-years serving as part of British Army's Gurkha regiment, received a standing ovation when collecting his GG2 Achievement Through Adversity Award.
Magar lost his legs after stepping onto an IED in Afghanistan in 2010. He was determined to challenge perceptions about disabled people.
He rediscovered his confidence through an array of sports which included skydiving, kayaking, cycling and skiing before taking up mountain climbing. He has since has scored a number of firsts, trekking to Everest Base Camp and scaling mountains in Nepal and Western Europe.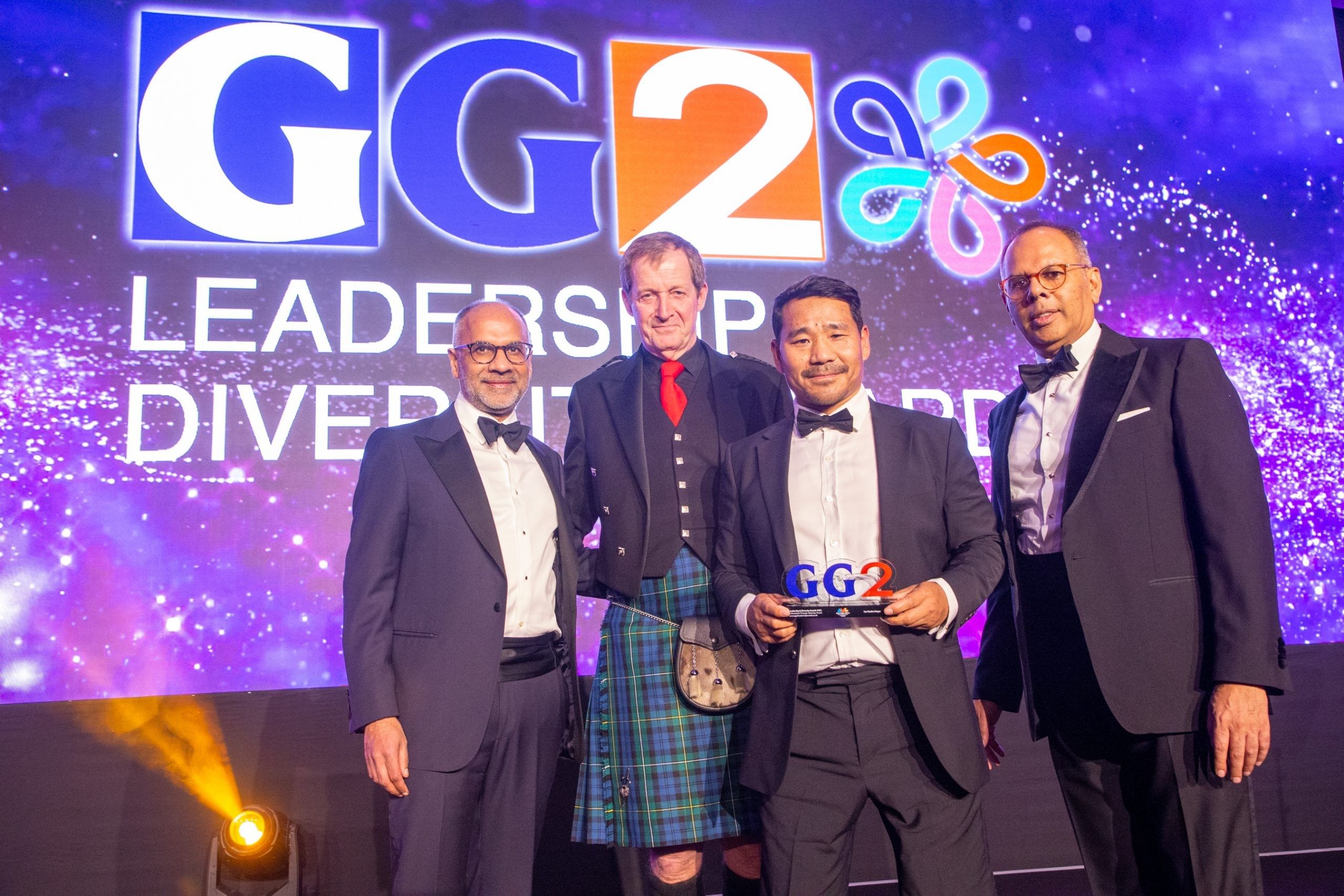 The GG2 Spirit in the Community Award went to Harris Bokhari, a community champion who has created organisations that have helped change peoples' lives.
He founded the Patchwork Foundation in 2010 to increase representation in our political system. He was the first non-white trustee of Natural History Museum, and the first Muslim to be elected to the National Trust Council. As a member of the Honours Committee he has been a strong advocate for senior honours for those from ethnic communities.
Baroness Patricia Scotland was the recipient of the GG2 Ram Solanki Beacon Award, named after the late founder of Asian Media Group (AMG) Ramniklal Solanki CBE.
Baroness Scotland is a pioneering public servant who has dedicated much of life to help those less privileged.
As Secretary General of the Commonwealth she has ensure each of the 56 member countries has an equal voice and standing. During her tenure she has transformed the organisation, ensuring it remains relevant by putting climate change at the top of the agenda and promoting investment in developing countries.
"I wish I could be with you in person but I am currently in Goa travelling between Commonwealth countries," Baroness Scotland said in a video message.
"It is a great honour and privilege to be nominated for this beacon award in honour of the great Ramniklal Solanki, who was a giant among men. He brought light to a dark world. Helped us to believe that justice was possible and real the and marginalised, poor and disenfranchised could be heard.
"He was also revolutionary and dreamed of how the world should be and struggled every year to deliver that reality. He is a true example of what you can achieve in public service and how you can change the world for the better."
LBC host and former BBC journalist Sangita Myska was the master of ceremonies.
The GG2 Leadership Awards were sponsored by Pladis, the Daily Mail, the Royal Air Force, the British Army, Sun Mark, Hearst and RHS.
WINNERS LIST:
GG2 Ram Solanki Beacon Award
WINNER The Rt Hon Patricia Scotland KC, Commonwealth Secretary-General
GG2 Spirit in the Community Award
WINNER Harris Bokhari OBE, Founder, Patchwork Foundation
GG2 Young Journalist of the Year supported by Daily Mail
WINNER: Elaine Chong
GG2 Inspire Award supported by Sun Mark
WINNNER Dr Geeta Nargund, Founder & Medical Director, CREATE Fertility
GG2 Achievement Through Adversity Award
WINNER: Hari Budha Magar
GG2 Young Achiever Award supported by the Royal Air Force
WINNER Isaan Khan Daily Mail
GG2 Outstanding Achievement in Science Award supported by Randalsun Capital
WINNER: Dr Senthil Nathan, Consultant Urological Surgeon, Cleveland Clinic London
GG2 Outstanding Achievement in Law
WINNER: Nasreen Karim, Founder/Director, Platinum Partnership Solicitors
GG2 Blossom Award supported by RHS
WINNER: Gregory Chon, Founder & CEO, Seeds for Growth Charity
GG2 Woman of the Year Award supported by Hearst
WINNER: Ayesha Vardag, President, Vardags Solicitors
GG2 Man of the Year
WINNER: Vinai Venkatesham, Chief Executive Officer, Arsenal Football Club
GG2 Hammer Award in association with Pladis
WINNER: The Rt Hon Rishi Sunak MP, Prime Minister
COMPANY AWARDS:
GG2 ED&I Initiative Award
WINNER: JTI
GG2 Advertising Agency of the Year
WINNER: OMG UNITE – Omnicom Media Group
GG2 Independent Agency of the Year
WINNER: GottaBe! Marketing
GG2 Marketing Campaign of the Year
WINNER: Mediareach Advertising
GG2 Diversity Champion of the Year Award
Winner: Anisa Missaghi, Chief Corporate Affairs and Communications Officer, Pladis
GG2 Diverse Employer of the Year
WINNER: Mondelez International
GG2 ED&I Award for Excellence in Education
WINNER: Regent Group
GG2 ED&I Award for Excellence in Finance
WINNER: Delta Capita
GG2 Police Force of the Year
WINNER: Humberside Police
GG2 Fire Brigade of the Year
WINNER: Lancashire Fire and Rescue Service
GG2 NHS Trust of the Year
WINNER: Northwest Anglia NHS Foundation Trust