By:ASJAD NAZIR
Acclaimed British Asian film Little English will release in UK cinemas this week, after delighting audiences on the festival circuit.
The heart-warming Pravesh Kumar directed comedy-drama features a great cast that includes talented young lead Viraj Juneja. He stars opposite Rameet Rauli in the story of a Punjabi girl with limited English, trapped with a London-based family, after the man she is supposed to marry runs away, and finds herself in an unlikely love story with his seemingly dangerous younger brother.
The actor, best known for 2019 independent British comedy feature film Get Duked!, along with short films and TV appearances, has great presence as the love interest in the multi-layered movie adaptation of hit theatre play There's Something About Simmy.
Eastern Eye caught up with him to find out more.
What first connected you to acting?
Performing! I've always been a performer, okay what I really mean is, I've always loved being centre of attention. Doing school plays and short films, knowing the audience was watching me, it was a drug. Since then, I've fallen in love with acting as a craft, but yeah that was certainly the origin.
What was the experience of working on Little English? 
Unlike anything else! We were shooting in a real house, which presented its own problems but meant we became one massive family. (Laughs) I think we all took turns to nap in that bed upstairs. There was just an incredible synergy. It became such a special place to be. I was buzzing to go to work every morning. Even on my days off I had massive FOMO! I wanted them to call me in so I could just hang out with everyone.
Tell us about the lead character you play?
I play Haripal, or Harry, who has been labelled as a 'bad egg' in the local community, however, there's so much more to him. He's a young man who's experiencing some mental health issues having been abandoned in the world. He is struggling to find his authentic self. Deep down there is a lot of good and love in him.
What was the biggest challenge of playing this role?
Harry very much likes to keep himself to himself. He doesn't have a good relationship with anyone, especially his mum. I, on the other hand am very extroverted and love my mum dearly. Seema, who plays my mum in the film, is phenomenal and being present with her in those scenes really stayed with me.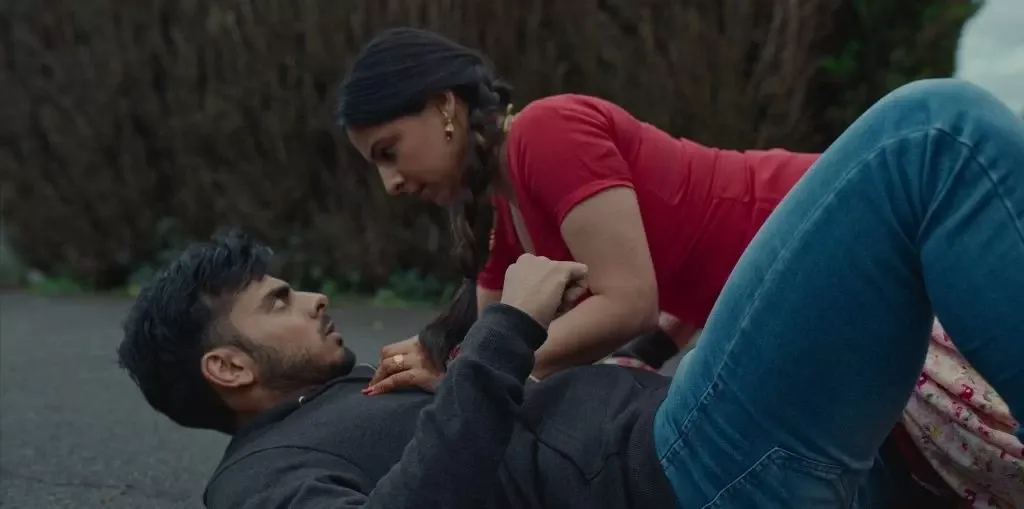 What was it like working with writer/director Pravesh Kumar? 
A privilege! Pravesh has championed South Asian voices for the past 20 years and RIFCO (his theatre company) is the home for our stories and audiences. To be a part of his first feature is such an honour. I'd love to work with him again but moreover I'd love to watch more of his work. He has an incredible relatable warmth. Film sets can be chaotic, but he was never fazed by anything.
You and Rameet Rauli are great in the lead roles. What was it like working with her?
She is amazing. We had so much fun working together. She's brilliant and such a wholesome person to be around. Her bubbly energy is infectious. Her character Simmy is phenomenal – to be lost in a new world alone, be feisty at times and yet comedic, isn't easy, but Rameet effortlessly nailed every beat with aplomb. I've learnt things from working with her. (Laughs) Oh and she's a massive diva. Sorry Rameet!
Who are you hoping connects with this movie?
Honestly, I feel the film will resonate with everyone who goes to watch it. The characters are so relatable. The story is heartbreakingly beautiful and the music so uplifting. After every screening, people have come up to us saying, 'you remind me of my brother, sister, aunt, grandad etc.' This authentic film really takes you on a journey.
What is your own favourite moment in Little English? 
To film, definitely the scenes where the family are all together. Ameet (Chana) and Goldy (Notay) had me laughing every time. Seeing everyone in costume and nailing their characters, were the moments when I knew we were creating something special.
How much did being surrounded by good actors in the film help you?
Incredibly so. I feel honoured that I got to work with Madhav Sharma, who plays Bauji (grandad). He's a living legend with a wealth of experience and would regale me with his endless tales. There was a moment when I sat there and realised 'Oh sh*t this dude is the Mr Shah from East is East!' What a privilege it was to have spent time with him.
What inspires you as an actor? 
Exploring different sides to myself. We're human beings and go through so many emotions. I want to embrace them all because you never know when something may help you connect to a character in future. I love the feeling of watching something back and not recognising myself.
Why should we all watch Little English?  
Little English is a film with massive heart. We've never had a film that so authentically represents South Asian culture on screen before. It will have you laughing, crying, hugging those around you and maybe also dancing in the aisle.  
Little English is in cinemas now