WHETHER it was baking, finding a new hobby, starting up a business or something else, millions around the world connected with a new passion while being trapped indoors during Covid-19.
One interesting success story that started in lockdown has been the remarkable rise of content creator Sakshi Keswani. The pandemic pushed the selfmade Indian star towards turning a passion for acting and entertaining people into creating hilarious videos, which quickly went viral.
Formerly known as Being Suku, she has gained over three and half million followers across social media since beginning her brilliant rise in 2020. Her videos like 'When your girlfriend is way too beautiful' have gained over 20 million views on Instagram. She is also an accomplished artist and shows off her eye-catching paintings.
Eastern Eye caught up with the multi-talented creative from Allahabad to discuss her journey, videos, inspirations, the importance of individuality, advice for aspiring content creators and future hopes.
What first connected you to creativity?
Since I was a child, the desire to stand out from the crowd, to do something bigger and better, has pushed me to think outside the box and be creative.
Did you expect to become this successful so quickly?
It took a long time, and there is still a long way to go. My journey has been extremely crazy. It was all lows in the beginning. I wasn't attracting as much attention as I had hoped. It was a long process, and no one wanted me to do it. But now, looking back, I feel good about myself and proud that I did not give up. I had to face a lot of difficulties because I was so new to this.
Tell us about that?
I had no idea how to edit, record, or act properly without going overboard. Because I didn't know anything about how these things worked. However, I did it because I like doing it and believed it would help me learn. Since I've gotten better at it, I can complete the entire process in minutes as opposed to the twothree hours it used to take me to shoot 15-20 second films. I'm still learning, but I can edit and record very well now.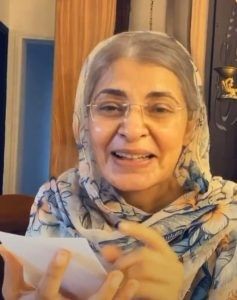 What has been your most memorable moment so far?
There have been many memorable moments, but the reaction of my parents and making them happy is something I really admire. Also, when I meet any of my followers, I feel really blessed.
Which of your videos is your personal favourite, and why?
I really enjoy playing grandma in my videos. The acting in those videos is of my own dadi (grandmother), so I tell her stories through my reels, which are very close to my heart because I literally cried while making them. Many people have messaged me to say that when we saw those reels, we literally cried. They are my personal favourites because I made them from the bottom of my heart.
Where do you get your inspiration from for the various videos?
I get my inspiration from everywhere, including everyday conversations and people I observe walking on the road. I see content everywhere, so can get inspiration from any conversation, incident, or little things that happen in day-to-day life. Anything can be observed, analysed, and made into content.
Tell us about your artwork?
Art has always been an escape for me, almost like therapy since I was a child. I have always painted and participated in competitions, even winning some. So, it was a scapegoat and my way of making people happy. I have always done whatever I do with zeal. When I was an art student, and then pursued fine arts after my 12th, I was into painting 24/7. I still paint, but not as much as I used to, but art is still a form of therapy and an escape route for me.
What is the plan going forward and can you see yourself moving into acting on film or TV?
Plan A is always performing better than what I am doing today. I'm constantly considering what I should do next for my Instagram family. I can't let my audience down and will not accept less. Without a doubt, I want to accomplish more in my life. As I previously stated, I have a strong desire to work in film, acting, and other related fields, and if the opportunity arises, I will seize it without hesitation.
What advice would you give aspiring content creators?
My mantra has always been, "do your future self a favour and work hard today". Don't lose hope in yourself, your dreams, or your passion. If you want to do it, you can! If somebody else, did it, so can you. You have that in you! Just do it, never give up and don't think about anything else. Trust yourself and your gut.
How important is it for you to be an individual as a content creator?
You can get inspired by people because everybody, every creation comes from inspiration, but it is also very important to have individuality. It's very easy to get lost in a crowd of different ideas and too many things all at once, when you don't know who you are as a creator by yourself. Also, if you constantly make videos the same as others, people will not know you as an individual creator of something unique. They will consider that your content is similar to someone else's, and you won't have your own identity. It is important to bring your own vibe, personality, and tone to your content. It's very important to have some tint about who you are reflected into your content.
Do you keep an eye on the other content creators?
Yes, I do. There are a few favourites I like to follow. To be honest, I get inspired by them a lot. I go like "Oh wow, why I can't think of it" or "This is so hilarious".
Tell us something about you that not many people know?
Only my close ones know that I'm a really driven person. I follow my work ethic diligently and have a strict routine. I feel like I'd be nothing without my work ethic. Work above all is my motto. If I have some work to do, I will only focus on and prioritise that, and everyone who's close to me knows that.
Has being funny ever helped you in real life?
Of course. Everybody likes funny people. I can catch people's attention just by being myself and being funny. It just makes me happy if somebody laughs at my joke. If somebody laughs with me, it's a different vibe and encourages me. It gives me a lot of happiness.
Finally, why do you love being a content creator?
Being a creator makes me do something creative and new every single day. This platform gave me a voice, importance, value, and a life I always wanted.