After delivering five films in 2022, Rakul Preet Singh begins 2023 with RSVP Movies' romantic-comedy film Chhatriwali. The Tejas Deoskar directorial stars her in the role of a condom tester and aims to promote the importance of male contraceptives and safe sex.
Eastern Eye caught up with Singh around the release of the film and spoke to her about her character, what the film tries to achieve, and how important it is to normalise the conversation around sex in a time when India has officially become the world's most populated country, and much more.
 Tell me something about the character that you portray in your new film Chhatriwali.
Well, I play this girl called Sanya, who is very driven in life and who is very focused. She is a small-town girl from Karnal, and there are some circumstances in her life that lead her to believe that this (safe sex) is an important conversation, and then she sets on that journey. But it's a very entertaining film; it's a very family-driven film. In spite of touching on a taboo topic, I think the beauty of the film is that it keeps in mind the family audiences because those are the people that need to be addressed to start the conversation. So, yeah, on the whole, I had a great time being Sanya and can't wait for Sanya to be out on the moon.
What was that moment during the narration when you felt that you wanted to do this film?
Not a moment, the whole script itself. I think, on the whole, I loved the script, and I feel that it's a very holistic script that speaks about important issues. You know, it especially touches upon the women's health angle which I don't think films have discussed. It talks about miscarriages, about abortions, about normalizing a conversation on that front, about sex education. So, I feel on the whole, the fact that, like I said, touching an important topic and still being family driven and being aesthetic in that sense, I think that was the reason why I loved the script.
How important is it to base a film like this in a small town rather than a city like Mumbai or Delhi?
See, I am not denying that the story is still in cities, and I think the larger problem lies in tier 2 and tier 3 sectors of society. Having said that, it's not that in the cities everyone is completely aware so I feel the more relatable the script is, the more people will want to consume it, and when it is a word which is a small-town world because taboos need to be addressed from the small-town set of ideologies, right? So, if they believe that the world is relatable or can relate to every character in the film, half the job is done. The world should not be alien to a larger audience to actually stir a conversation.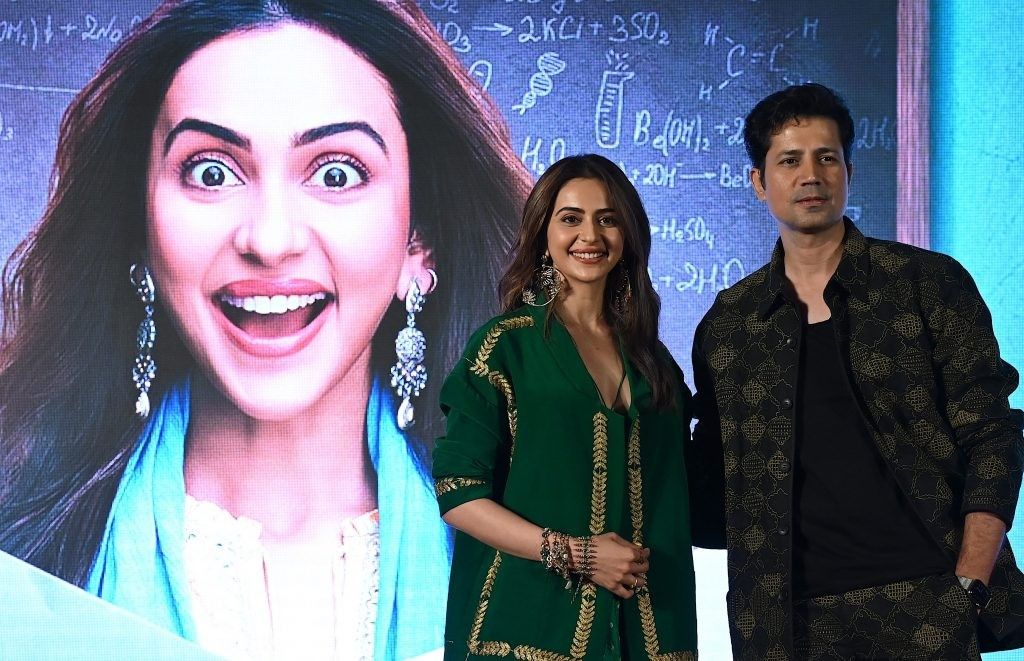 Were there any apprehensions before you said yes to the film?
No, not really. I think the script was great. On the script level, it was great, I was very certain that it is a very sensible film and not made for the wrong reasons. There is not one scene or dialogue in the film which is to sensationalise or grab eyeballs. I think that's the beauty of the script, so when I took the narration, when I met the team, I was pretty sure that I believed in the world that they wanted to create; there was no apprehension.
What was the most challenging part of playing Sanya in the film?
I don't know about challenges. I don't understand the word "challenging." Everything is different. to sort of do things that you have not done before. But that's the beauty of it. If it's repetitive, then it's boring; if it's new, then it's different, and I think Sanya is a very different character from all the others that I have played. I think the only thing I have to keep in mind is being authentic to the character. Rakul should not start thinking like Sanya. I have to believe in Sanya.
What do you think the film tries to achieve?
It's an entertaining film. There is no motto beyond that. We are entertainers, and our primary agenda is to entertain people. So, it is a humorous, entertaining film that you can watch with your family. There is a way of messaging that is important for society, and it's done in a very subtle way and in a very entertaining way.
Chhatriwali has come at a time when we have officially become the most populated country on earth. What do you have to say about that?
I wanted to tweak that the other day, but the news was already out. I was like, 'This is even more reason why everyone needs to watch Chhatriwali.' We have a 7% population that used protection and I think it's high time we realize that it's not about the number of people we are but also about the quality of life that we ensure for these people. And the planet is struggling with global warming, with the good air quality, with the water, with everything that's going on. I think it's high time we become responsible citizens not just of the country but become responsible global citizens, you know. Responsibility begins from how we sort of reproduce and multiply also.
You had five releases in 2022, and almost the same number of films are lined up for release this year too. So, what do you do to keep yourself motivated when you feel jaded?
But why is it always expected that you will feel jaded? I mean, I am doing what I love to do; in fact, if I am not working, I am bored and very moody. I am extremely driven when I am working. I think I always say that. Hectic is my sanity. So, the more hectic I am, the saner I am. And I love my work. So, when you love your work, you don't burn out.
A lot of people in the industry are scoring at OTT these days. How open are you to switching to OTT from the bigger screen?
I am reading a couple of things, and I think it's a great space to sort of dive in, and of course, our film is also coming on Zee5 Global, but if you are talking about a series format, then it's great to deliver long-form stories. It's got a great reach. There are so many different kinds of content that can be shown. So, I am open to it if something really hard-hitting, some really nice exceptional comes my way, then why not?
Chhatriwali is available to stream on ZEE5 Global.